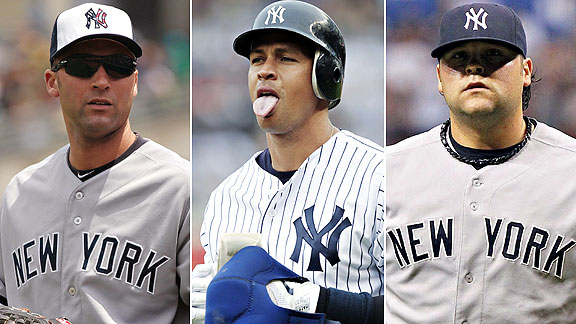 US Presswire
Who are MLB's three most overrated players? According to an SI players' poll, you're looking at 'em.The next issue of Sports Illustrated will contain its annual poll of 185 major league players rating the game's MOPs -- or Most Overrated Players.
The results were obtained by ESPNNewYork.com and not surprisingly, Alex Rodriguez successfully defended his 2010 title as baseball's most overrated player with 18% of the vote.
Joba Chamberlain retained his title as No. 2 on the list with 12%. Derek Jeter rounded out the top three, coming in third with 7%. Nick Swisher got some love, too, tying Red Sox closer Jonathan Papelbon for fifth place with 4% of the vote.
Should make for some interesting pregame clubhouse conversation tonight. We'll keep you posted.
Agree or disagree? Make sure to vote in our homepage poll (scroll to the bottom of the page) and comment below.