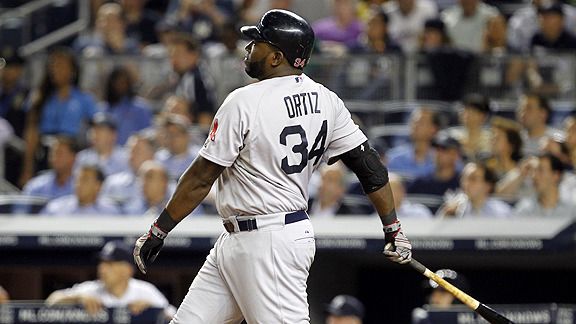 William Perlman/THE STAR-LEDGER/US Presswire
David Ortiz's exaggerated follow-through on a fifth-inning homer drew criticism from Yankees manager Joe Girardi.The Yankee Stadium crowd wasn't happy with David Ortiz's home-run celebrating bat flip in the fifth inning Tuesday.
The Yankees' manager didn't like it either.
"I didn't really care for it," Joe Girardi said after the Yanks' 6-4 loss to Boston. "I don't know if he was upset that he missed some pitches earlier. You know, I've got a young kid [Hector Noesi] on the mound. I didn't know if [Ortiz] was upset that he came in hard on him."
#34 DH
Boston Red Sox
2011 STATS
GM

58

HR14

RBI32

R35

OBP.390

AVG

.324
Ortiz hit a two-run homer to right off of Noesi in the top of the fifth to give the Red Sox a 6-1 lead. After an exaggerated follow-through on his swing, Ortiz flipped his bat toward the Red Sox dugout. The Red Sox slugger didn't see anything wrong with the gesture, calling it "just another home run for Papi."
"I mean, it's not my first time, it's not going to be my last time," Ortiz said when he was informed of Girardi's comments. "Big deal. I enjoy the game. It's not like I do it all the time. It's part of the excitement, you know? … What can I tell you?"
Noesi threw an inside fastball on Ortiz the pitch before the home run. Some interpreted it as a purpose pitch, in response for Jon Lester's beaning of Mark Teixeira and Russell Martin in the first inning.
Ortiz did not think the fastball was intentional. As far as Girardi being upset about the gesture, Ortiz said "if [Girardi] was on this side, he would have enjoyed it."
Most Yankees players said they didn't notice the bat flip.
Martin said Ortiz's gesture was "part of the game" though he noted it wasn't the first time Big Papi has shown up a pitcher.
"He took his time coming out of the box. You never want it to happen to you," Martin said. "I guess it's up to us to do it right back to him. We didn't get the opportunity. It's part of the game. Some guys do it, some guys don't."
Martin added: "I've seen him do it before. I like it better when he's doing it against other teams, not against us."
Girardi was asked what he could do to deter any showboating in the future.
"Nothing," said Girardi, whose team fell to 1-6 against Boston this season. "David has always played the game hard. I've never had a problem with David Ortiz.
"This guy's been a clutch player for a long time. My reaction is more probably protecting our young kid. And that's what I'm going to do."
The manager surmised that it was "one of those things" in baseball in which he'd defend a Yankee hitter if he finished off a home run in the same fashion.
"Of course when it happens to you, you're going to defend your guy. … And if it's our guy, I'm gonna say there was nothing intentional about it," Girardi said.
The Red Sox have won four straight at Yankee Stadium for the first time in the two-year history of the Stadium. They also tied the Yankees for first place in the AL East with the win on Tuesday night, the first of a three-game set in the Bronx.