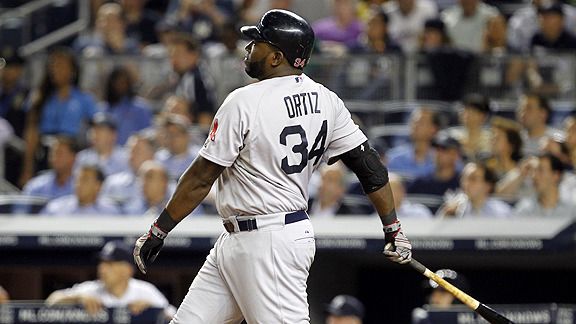 William Perlman/THE STAR-LEDGER/US Presswire
Joe Girardi said David Ortiz is "probably comfortable" at the plate against Yankees pitching. He has homered in his last three games in Yankee Stadium.
In a move that is certain to fire up the chorus of Yankees fans calling for David Ortiz to get drilled, Joe Girardi admitted on Thursday that Ortiz is "probably comfortable" at the plate against the Bombers.
"Well he's had a lot of success (against the Yankees) and I think you do get feelings against certain clubs," Girardi said on Thursday. "The question was brought to me about making him uncomfortable.
"We moved him off the plate the other day, I don't know if it was the next pitch or two pitches (later), he hit a home run. The bottom line is if you don't make pitches on this guy, he's going to hurt you and he's going to hurt you bad. And we haven't made the pitches on him. And he probably is comfortable because he's had a lot of success against us."
It's been an interesting series for Ortiz and Girardi.
Girardi said he "didn't care" for Ortiz's bat flip after a fifth-inning homer on Tuesday night. On Wednesday, after hitting another homer in another Red Sox win, Ortiz was not interested in revisiting the controversy. He made that clear in an expletive-filled exchange with reporters.
"I don't care what Joe Girardi says," Ortiz said to a New York writer. "Take it like a man. I'm done with that."
Ortiz said he did not flip his bat Wednesday so he could avoid being on the "national news."
"I don't want to have you guys asking me the same questions. I got almost 370 bombs in the big leagues and everybody wants to make a big deal because I bat-flip one of them. (Expletive) that (expletive), man. If I have to make that video on my (expletive), let's see how many bat flips I got on this (expletive). Good night."
Ortiz has hit 364 home runs in his career. Thirty-four have come against the Yankees, a total against one opponent exceeded only by the 39 he has hit against Toronto. And that doesn't count the five home runs he has hit against the Yankees in the postseason, including one of the most dramatic in club history -- the 12th-inning walkoff home run in Game 4 of the 2004 ALCS.
Ortiz has homered in each of the team's past three games against the Yankees, all at Yankee Stadium.
The last Red Sox player to hit home runs in three straight games in the Bronx was Mo Vaughn, back in 1994, according to the Elias Sports Bureau.
Information from ESPN.com's news services was used in this report.