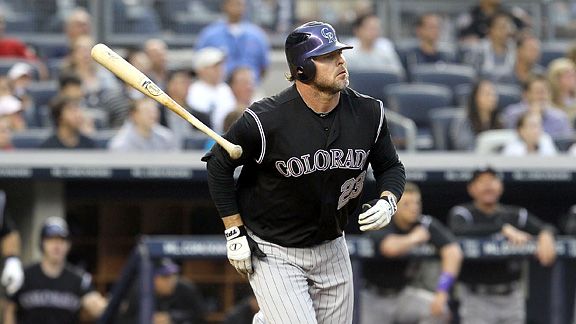 Jim McIsaac/Getty Images
Jason Giambi was back in the Bronx, where, as a Yankee, he was productive -- and controversial.As he rounded the bases after hitting his first home run at new Yankee Stadium, Jason Giambi felt like he was trotting on air.
Giambi, 40, has hit 422 homers in his career -- 95 of them in "The House That Ruth Built."
But this homer, his latest homer, was something special.
"I wasn't touching the ground," said Giambi, who went 3-for-4 with two runs scored and a walk in the Rockies' 4-2 victory over the Yankees on Friday night. "There's an incredible energy in this stadium. It was like old times. I'm definitely honored and grateful.
"I couldn't have dreamed of a better game to have."
Giambi left the Yankees after the 2008 season, the team's last in the old stadium. He hasn't been back to the Bronx since 2009. But the way the fans treated him on Friday night, you would've never known.
"They're the greatest. I've always loved those guys," Giambi said of the notorious Bleacher Creatures, who included him in their pregame "Roll Call."

First Base
Colorado Rockies
"And for them to do that, it's such an honor."
Giambi didn't even get the Bronx cheers when he hit his colossal blast off A.J. Burnett in the first inning -- a towering shot high into the right-field bleachers in the top of the second.
Nope. "The Giambino" was showered with genuine applause -- normally unheard of for opposing players. Apparently, his seven years in pinstripes didn't go unnoticed.
"I was honored and grateful to give me the reception they did," Giambi said.
Giambi is no longer the feared slugger he was during his prime. His skills have diminished, and he's been forced to adjust to a bench role in Colorado.
A transition like that can prove difficult for someone who has been a regular throughout his entire career. But Giambi has taken to the challenge like a professional, serving a mentor for the younger players on the Rockies' roster.
"His offensive performance [Friday night] was not only noteworthy, but the fact of coming back here to New York where he was such a special player, to see him have the game he did here tonight ... that couldn't happen to a more professional person," Rockies manager Jim Tracy said.
"I can't begin to start to try to tell you guys not only the contribution he's made to the club, but his value outside the lines. He's been an absolute 100 percent asset here since he showed up in September 2009.
"And one day, he's gonna make a pretty good DH for somebody," Tracy joked.
Fortunately, Giambi is going to be able to DH for the Rockies for the final two games of the three-game interleague series as well, so he'll be able to inflict more damage on his former teammates -- although they're not entirely that thrilled about it.
"He looks great. He's in great shape," Alex Rodriguez said. "[It's] great to see him doing good -- just not against us."
Considering that his stay in the Big Apple is going to be a short one, Giambi is taking it all in as best he can -- and he's telling his teammates to do the same.
"We have a lot of young talented players, and that's the one thing I told them: There's a lot of mystique and aura here," Giambi said. "During our pregame hitter's meeting I gave them a 'Hoosiers' talk. I told them. 'It's the same [stadium], 90 feet to all the bases.'"
Giambi said he's especially looking forward to Sunday, when the Yankees hold their 65th Annual Old-Timer's Day game. His former manager, Joe Torre, and former teammate Bernie Williams will both be making their Old-Timer's Day debuts.
"I saw Joe earlier in the season. He should get an incredible reception," Giambi said. "As for Bernie, he's one of the great Yankees of all time. It should be fun for those guys."
Giambi claimed pregame that he could see himself playing until he's 45. But the truth is, Giambi's days in baseball are probably numbered. Age will take its toll, and soon enough, "The Giambino" will be making his Old-Timer's Day debut.
And that's why Giambi felt like he was trotting on air as the he rounded the bases. After all, his 422nd career homer could've been his last in the Bronx.