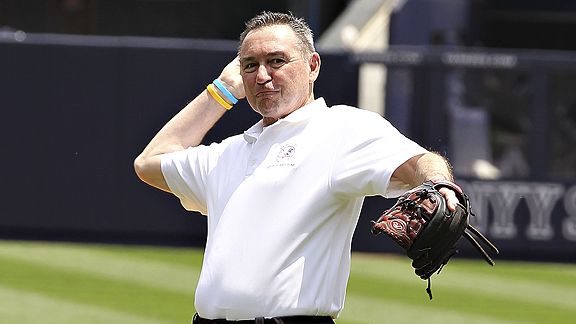 Al Bello/Getty Images
Yankees trainer Gene Monahan threw out the first pitch of the Yankees' Old-Timers' Day game on Sunday afternoon.
Even though he'd worked for the Yankees for nearly 50 years, Gene Monahan never thought of himself as a true part of the franchise's tradition.
That all changed early Sunday afternoon.
"I always considered myself kind of the hired-hand, helper-outer guy," Monahan said. "I feel probably more [a part of the tradition] now, because of what happened today."
To honor their longtime trainer, the Yankees invited Monahan to throw out the first pitch of Sunday's Old-Timers' Day game. Jorge Posada came out to catch the ball. Monahan, who is retiring at the end of the season after 49 years with the organization, was later surrounded by Yankee legends past and present. His two daughters and fiancée also made surprise guest appearances on the field.
Afterward Monahan, who battled neck and throat cancer last year, said he felt like he was "part of the family, the way the Boss always wanted it to be …. I think it's starting to set in now."
In addition to throwing out the first pitch, Monahan was given a gracious sendoff that included the following:
A letter from MLB commissioner Bud Selig

Stadium frieze from his original Yankee Stadium locker

Two seats from the original Yankee Stadium

A Thomas Kinkade painting of the original Yankee Stadium

Ride-on lawn mower

Stetson hat autographed by Garth Brooks

Round-trip tickets to Las Vegas to see Brooks in concert

Round trip travel and two tickets to NASCAR Championship Weeked; autographed helmet from Kevin Harvick

15-day tour of the Alps

2012 Ford F-150, Harley Davidson Edition pickup truck
So, what was Monahan's reaction to the extravagant gifts?
"Right now, I'm just numb and quivering and I can't really feel my feet, to tell you the truth," an emotional Monahan said.
Monahan has spent the last 49 years in the Yankee organization, 39 of them working as the head trainer for the big league club.
He was a bat boy and clubhouse attendant in 1962 before working his way up to head trainer in 1972. And, of course, he was fired on more than one occasion by Steinbrenner, the late owner of the Yanks.
Monahan said he always "came back the next day [and] when that phone rang and it was him on the other end yelling and screaming at me, I knew I still was working."
A few weeks ago, Monahan got a letter from Steinbrenner's son, Hal, which requested that he throw out the first pitch for Old-Timers' Day.
Monahan figured that he'd just be throwing out the first pitch. He didn't know about the gifts.
"It's hard to react," he said when asked about the presents. "I live a humble life. A simple, humble life and I'm not into that kind of stuff. I'll take some deep breaths tonight, think about it and try to figure out a way to adequately thank everybody."
About an hour after the festivities, Monahan was ready to get down to business, preparing for Sunday afternoon's game against the Rockies the same way he had for the past 39 years.
"I don't know how I feel accept that at 2:20 we've got a game and I've got to be ready and I want to be out there for those guys just like every day," he said.