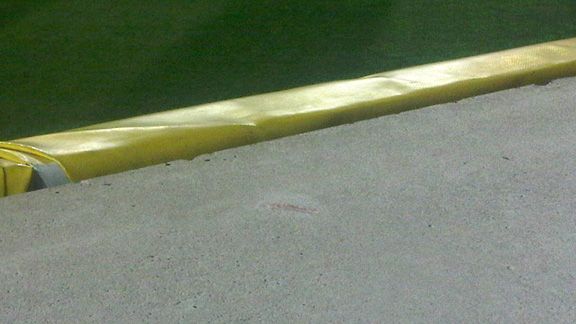 Ian Begley/ESPNNewYork
Small red mark shows where Jorge Posada's home run ball left a mark on the concrete inside the right field wall.
In case you didn't believe the conclusive television replays and the umpires final call, we have further evidence the Jorge Posada's drive to right was a home run.
We went out to the right field bleachers to talk to the fan who had his hands on the ball - - Allen Pfeiffer from Teaneck, N.J. Above is a picture of the mark the ball's red seams left on the concrete inside the right field wall.
Pfeiffer said he tried to trap the hard-hit drive against the concrete instead of catching it on the fly. It bounced off of him and back into the field.
Posada was in his home run trot as shortstop Yuniesky Betancourt tagged him between first and second. After being called out, Posada looked stunned. However first base ump, Adrian Johnson, overruled the call and said it was a homer.
Upon further review, that call stood. As it should.
"I knew it went over the wall," said Pfeiffer, who had a bag of ice on a hand that was sure to be bruised later Wednesday night. "I tried to tell them it was a home run. I hope they listened."
It was the eighth time a play was reveiwed at Yankee Stadium and the second call reversed via replay.
"I knew it was over the wall. That's the only reason I'm out there between first and second," said Posada. "I don't know why I had to run them again. I ran the first time."
The umps are the only ones who can stop Posada of late. He has hit safely in 13 of his last 14 starts, batting .404 in his starts over that stretch. He's also homered in three of his last six starts.
"I feel good at the plate," said Posada, who is hitting .391 in June after batting .169 in the season's first three months. "My approach is better, my thought process is a little better, and they're falling for me. That's it."