Mark Teixeira didn't want to label it a major milestone.
Sure, the Yankees first baseman called his 300th home run "very cool." Yet, just last year he'd watched teammate Alex Rodriguez hit his 600th home run -- and felt characterizing his total as major paled in comparison to other marks.
"Seeing what Alex did last year and then saying, oh man, I got 300, great," Teixeira said with a smile. "He had 600 last year so it puts it in perspective. It makes you realize you have a long way to go."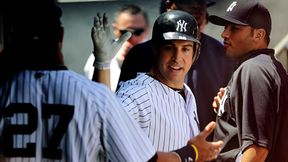 AP Photo/Seth Wenig
Mark Teixeira would love to hit 500 home runs, but he's not holding his breath.
While Teixeira remained modest about his 300th home run, which also gave him the league lead this season with 25, Teixeira appreciated more how it helped the Yankees finish off the sweep of Milwaukee in a 5-0 win Thursday.
Teixeira matched his previous career high for home runs before the All-Star break and became just the third player to ever hit 25 home runs in each of his first nine seasons, according to the Elias Sports Bureau.
"Any personal accomplishment means nothing if you don't win," Teixeira said. "For us to have a great day like today and finish off a pretty good homestand, it makes for a nice road trip, even if we're not going very far tomorrow."
As much as Teixeira wishes he had a few more hits to help raise his .243 average, he's had no problems this season hitting home runs and driving in runners. Of his 71 hits on the season, 35.2 percent of them have left the park.
With the Yankees leading the Brewers, 2-0, in the third inning, Teixeira drove a pitch from Milwaukee starter Randy Wolf over the wall in left field to give the Yankees a 3-0 lead. It gave Teixeira the lead over Jose Bautista of Toronto for home runs and pushed him up to 63 RBIs, which is tied for the fourth-best mark in baseball and is the second-highest total in the American League.
"He's been extremely productive for us. He's swung the bat well, right-handed and left-handed. He really got us going in the beginning of the year with all of the three-run homers he hit," Yankees manager Joe Girardi said. "He's continued to be productive. He takes his walks and he plays his defense. He's a tough out in the middle of the order that's very dangerous. It's nice to be able to pencil his name in there every day."
Having hit 25 home runs in 79 games, Teixeira is on pace for approximately 51 home runs, which would surpass his previous career high of 43, with Texas in 2005. That same year, Teixeira also had 25 home runs before the All-Star break and he ended up with a career-best 144 RBIs.
When asked about potentially hitting 50 home runs, Teixeira said he needs to reach 30 before the topic of 40 can even be breached. He said even 26 is going to be tough, although at his rate, his 26th home run will come in his next four games.
Teixeira does see similarities between 2005 and now.
"Any time I'm hitting a lot of home runs it's because I'm being aggressive," Teixeira said. "I can't be passive. If I try to flay balls the other way or really wait back and stay inside, it's just not the kind of hitter I am."
With 300 home runs under his belt, and a new milestone ball to add to his collection, Teixeira is making his way toward some pretty select groups. Just 47 players have hit 400 home runs, including Rodriguez and fellow teammate Andruw Jones, and only 23 have reached 500.
Teixeira said getting to 500 home runs would be a dream come true, but he isn't going to keep playing just to reach a milestone. He said that if at the end of his contract, which ends in 2016 when he is 36, if it's a mutual feeling between the team and him that he's playing well, he'll continue to play.
He's not fixated on a number, even on a day when he reached another milestone in what has been a very productive career.
"I'd love to get (to 500), I really would," Teixeira said. "But that is so far in the future."