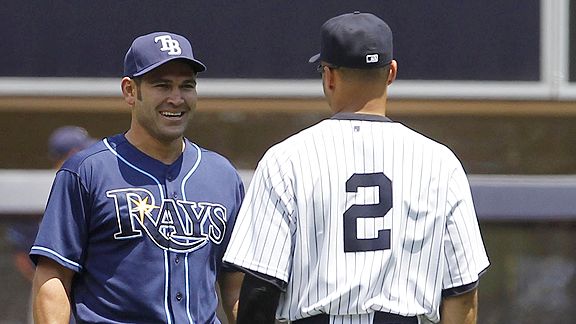 William Perlman/THE STAR-LEDGER/US Presswire
Derek Jeter's former teammate, Johnny Damon, got to witness No. 3,000 in person.As Derek Jeter rounded first base in his home run trot for the 3,000th hit of his career, Tampa Bay first baseman Casey Kotchman tipped his cap to the Yankees shorstop. Like his teammates who came out of the dugout to applaud Jeter, Kotchman wanted to show appreciation for Jeter's accomplishment.
"I felt like that was the right thing to do out of respect for what he's done and what he means to the sport," Kotchman said. "On a single or a double I thought I'd have my chance to shake his hand and give him a hug and say congratulations first. When he went in the seats, that wasn't going to happen and I wasn't going to be able to shake his hand so I tipped my cap."
While Jeter recorded hit No. 3,000 against the Rays, the team and its manager were all respectful and congratulatory of Jeter's accomplishment following the Yankees' 5-4 win over the Rays.
"It was a great moment for Derek, his family and the history of the Yankees franchise," former teammate and current Tampa Bay designated hitter Johnny Damon said. "Derek stands for the good stuff in baseball. I'm proud of him."
Jeter secured hit No. 3,000 when he smashed a solo home run to left field off Rays starter David Price in the third inning to tie the game at 1. While the Yankees mobbed Jeter at home plate and the relievers ran to home plate from the outfield, the Rays waited for the Yankees to celebrate first before manager Joe Maddon asked Damon to bring the team out. A fair amount of Rays initially came out of the dugout to applaud Jeter, led by Damon, while others applauded from the top step of the dugout.
Maddon said it was a great day at Yankee Stadium, while saying it was unfortunate Jeter went 5-for-5 against his team, including the game-winning RBI in the eighth inning. He said his team will always remember being part of this game and he has an appreciation for what happened.
His players all seemed to bring up the word "respect" when discussing Jeter's milestone.
"I feel like everyone in this locker room has mutual respect for Derek Jeter, probably everybody in baseball, it's not like he's done anything to anybody to have not the same amount of respect as everybody else," Price said. "He's done it the right way and I know a lot of guys respect him."
Maddon joked that Jeter went above and beyond what he needed to do in his quest for 3,000 hits by having a perfect day at the plate and driving in the game-winning run in what will be remembered as a legendary performance.
Considering it was Jeter, the Rays weren't surprised.
"It's just special," Kotchman said. "His 3,000th hit is a homer and you come to expect nothing less from him. He's got that flair for the dramatic. Just to see the crowd's reaction, he just deserves it."
Added Damon in a joking manner: "Hopefully he can play himself in his own movie."