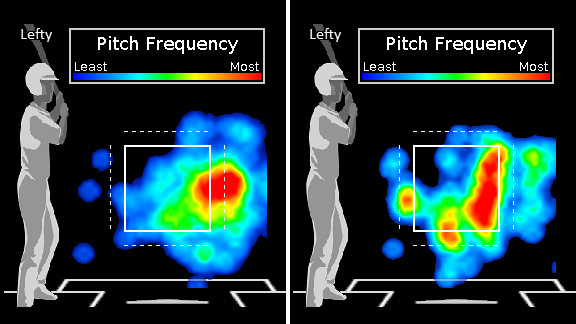 The image at left shows David Robertson's first-pitch approach to lefties in 2010. The image at right shows his first-pitch locations to lefties in 2011.What was it that turned David Robertson from above-average middle reliever into an American League All Star?
Our statistical evaluation shows its as easy as 1-2-3, or in Robertson's case, Strike 1-Strike 2-Strike-3.
Let's take a closer look.
Strike 1
One of the biggest improvements that Robertson has made is in his effectiveness at the start of an at-bat.
In 2009 and 2010, Robertson threw 55 percent first-pitch strikes. When hitters chose to swing at Robertson's initial offering, they fared well if they put the ball in play 10 hits in 28 at-bats, a .357 opponents batting average.
David Robertson
First-Pitch Strike Pct
This season, Robertson has upped his first-pitch strike percentage to 64 percent and hitters aren't able to put the ball in play against him with any sort of effectiveness-- they are 2-for-10 when doing so against the first pitch. First-pitch swings that were going for hits last season are not in 2011. They are being fouled off.
Zoom in a little bit more on the numbers and you can see the big change that Robertson has made against left-handed hitters, upping his first-pitch strike percentage from 55 percent to 70 percent. He's been able to do that with little impact. No lefty has a first-pitch hit against Robertson this season.
Take a look at the heat maps at the top of this piece. The one on the left shows where Robertson threw his first pitches to lefties in 2010 (the red and green areas are the most frequent locations) to where he's thrown them in 2011. That little adjustment is a result-changer.
Strike 2
Once Robertson gets to strike one on a hitter, the next step is getting that next strike. Robertson has done so with significant success this season.
Fewer than one of every four swings against Robertson in a one-strike count (23 percent) has been put into play. That's an improvement of about eight percentage points from how he fared last season.
How big a difference is that? The difference between being really good (Robertson ranked 34th in that stat last season) to being elite (he ranks fifth-best at preventing one-strike pitches from being put into play in 2011).
When the ball is being put into play in these situations, just as the case was on first pitches, the impact is minimal.
David Robertson vs RHB
In One-Strike Counts
Last season, opponents reached base nearly 50 percent of the time (.488 BABIP) when putting a ball into play against Robertson in a one-strike count. This season, they've reached just 29 percent of the time (.286 BABIP). That's due to Robertson adjusting his pitch location, particularly against right-handed hitters.
In 2010, Robertson was prone to throwing balls over the middle of the plate to righties in these situations. A look at our heat maps showed he's working the edges of the plate much more often in 2011. The chart on the right shows the results of that.
Strike 3
Robertson was stumped the other day when one of our writers asked him to pick his favorite strikeout of 2011. Perhaps it's because there have been so many of great importance.
We can rank the importance of the strikeouts of all Yankees pitchers this season in order of Win Probability Added (WPA), thanks to Baseball-Reference.com. WPA tells you how much a team's chance of winning improved or decreased with each plate appearance. For example, a strikeout with the bases loaded in a one-run game is a lot more valuable than one in a 10-0 blowout.
Robertson has seven of the Yankees pitchers 10 most important strikeouts by this stat, including five of the top six. All five of those are the same situation- bases loaded with a one-run lead in the sixth inning. He is a perfect 5-for-5 at retiring opposing hitters in such spots. All whiffs.
Highest K per 9 in Season
Yankees History (min 50 IP)
In scientific terms, we'd say Robertson's horizontal velocity as the pitch crosses the plate is among the highest in baseball, both for his fastball and curveball. This is because his pitches don't come back to a right-handed hitter and away from a lefty. He's the rare righty (like a Tim Lincecum) whose pitches do the opposite.
In baseballese, we'd say that Robertson's pitches have that little extra zip away from a right-handed hitter and in to a lefty with two strikes, making them difficult to read and thus to square up. Much like everything else, Robertson has made improvements in this from 2010 to 2011. That little extra oomph makes a big difference.
Robertson may not be the most efficient at finishing hitters with two strikes. Consider that both he and White Sox reliever Sergio Santos have 56 strikeouts this season. Santos has done this with 165 two-strike pitches. Robertson has needed 243 to reach that same number.
But Robertson is the most persistent. Despite his lack of two-strike efficiency, Robertson is averaging 14.3 strikeouts-per-9 innings, a mark that would blow away not just the Yankees single-season record, but the American League mark for best K per 9 rate if he can maintain it for a full season.
And that persistence, more than anything else, is what has made Robertson an All-Star in 2011.