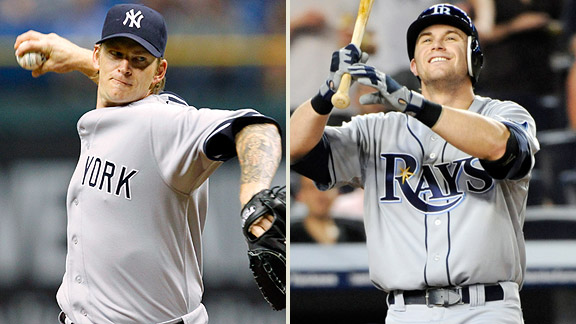 AP Photos
A pivotal matchup in a pivotal series could be how A.J. Burnett handles Evan Longoria.We're going to narrow our What2Watch4 for this Yankees-Rays series (7 ET, ESPN) down to one matchup: Rays third baseman Evan Longoria vs Yankees pitching.
Longoria was the subject of much discussion on the 16-inning Sunday Night Baseball telecast, with Orel Hershiser and Bobby Valentine wondering whether what kept some of Longoria's fly balls in the ballpark was his recovery from the injuries that sidelined him earlier this season.
But the Yankees have a means of keeping Longoria in the ballpark that has nothing to do with his injury. Let's take a closer look.
Evan Longoria vs Notable Yankees
Career
In 2009, Longoria hit 16 fly balls against the Yankees. Seven of them left the ballpark (four in Yankee Stadium, three at the hitter-unfriendly Tropicana Field). That's a crazy home run-to-fly-ball rate: 44 percent (the big league average is 10 to 12 percent).
But since then, Longoria has hit 24 fly balls against the Yankees. Only one has gone for a home run.
What is that attributable to?
Our pitch performance data shows two significant changes in approach for the Yankees in the last two seasons.
For one thing, they're throwing him less of the hard stuff. Longoria had hit five of his home runs in 2009 against fastballs (including one against a cutter).
The Yankees subsequently reduced the percentage of fastballs thrown to him from 70 percent in 2009 to 60 percent over the last two years.
That's maybe a one or two pitch difference per game, but given the rate at which Longoria was crushing Yankees pitching, it's a potential difference-maker.
The other change has come in pitch location. Our data, culled from Pitch F/X (an in-ballpark pitch-tracking system) allows us to look at pitch location by section.
In 2009, two-thirds of the pitches that the Yankees threw to Evan Longoria were classified as being in the middle-third of the strike zone or higher.
That's a power hitter's kind of pitch. Since 2009, Longoria has hit 50 of his 66 home runs against pitches to those spots.
So the "pitch-him-up" approach was basically a recipe for trouble. Six of Longoria's seven home runs came on pitches in the middle-third or higher.
It looks like the Yankees figured out that wasn't the best way to go.
Evan Longoria vs Yankees
Career
Over the last two seasons, Yankees pitchers have thrown 368 pitches to Longoria. If they had taken the approach they took in 2009, he should have seen 247 pitches middle-third or higher.
He's seen 206.
That's 41 fewer opportunities to drive the ball out of the ballpark.
Let's go one step further. In 2009, the Yankees threw 36 pitches to the location we classify as "middle-in."
Historically, Longoria crushes pitches to that spot. He was 5-for-11 with two home runs against them against the Yankees in 2009.
In 2010 and 2011, Longoria has had the same level of success- 5-for-10 with a home run. But he's being given far fewer chances to hit that sort of pitch.
He's gone from seeing one of every seven pitches to that spot to one of every 11. Take a peek at those two images at the bottom of this story.
The one on the left shows where the Yankees pitched Longoria most often in 2009. Look at the difference in the image on our right for 2010 and 2011. The blip on the inside part of the plate has disappeared.
This change has not just limited Longoria's power. It's kept his batting average on balls in play against the Yankees to a modest number over the last two seasons -- .286.
So it will be worth watching if Burnett, against whom Longoria has a .429 batting average on balls in play, with a 447-foot home run in 2009, follows the same pattern. It looks like he's aware of it.
Burnett has thrown Longoria 24 pitches this season and Longoria only has one hit in six at-bats.
Only one of those pitches has been middle-in.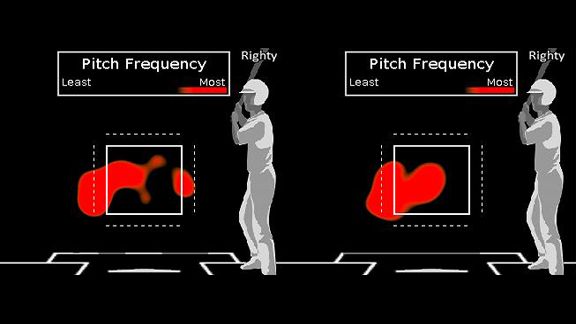 At left: How Yankees pitched Evan Longoria in 2009
At right: How Yankees pitched Longoria in 2010-2011