At one point during CC Sabathia's near-perfect game, he struck out seven straight Mariners. The crowd became louder which each pitch.
"It helps you," Sabathia said. "We have really the best fans in baseball and it definitely helps."
At around 8:30 p.m., the first rain delay came. It was only a half-hour, so Sabathia stayed in. There was never any doubt for him -- no matter how long it was -- that he would return.
"I was going back out," Sabathia said.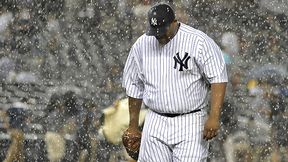 AP Photo/Kathy Kmonicek
Would CC Sabathia let the weather rain on his near-perfect parade? As if!
During the delay, Sabathia threw some pitches off the bullpen mound located underneath the Stadium so he could stay fresh. Sabathia didn't think it was a big deal because the Yankees have scored a lot of runs in some of his big outings this year.
Sabathia admitted that during the first delay he sat in the clubhouse with his teammates. While he talked with them, he thought about pitching the perfect game.
"It is hard not to," Sabathia said. "You know you haven't pitched out of the stretch. Anyone who says they didn't know is lying."
When the rain came, Sabathia didn't want to think about what it might do his unbelievable stuff.
"I just tried to stay focused and continue to make pitches," Sabathia said. "It was only a 3-nothing game. It wasn't like we had a huge lead. I was trying to keep making pitches and trying to get the win."
Finally, with one out in the seventh, he fell behind against Brendan Ryan.
"It was 2-0 and we are up 3-nothing so I was just trying to make a pitch and he ended up putting a two-seamer in play and getting a hit," Sabathia said.
It was a clean single to left center.
"There was a little disappointment," Sabathia said. "I was trying to focus on just making pitches and not let that affect me and throw strikes."
After the first delay Sabathia he felt "pretty good." After the second one -- which lasted 14 minutes -- he lost his command. He walked the three batters he faced in the eighth.