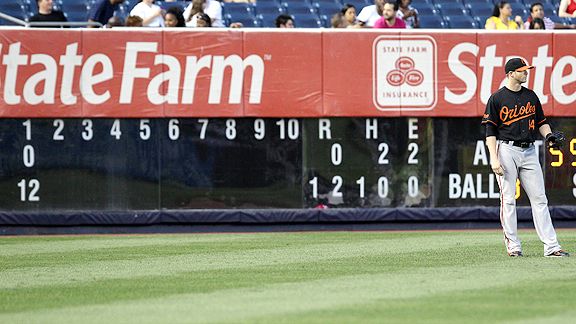 Debby Wong/US Presswire
The Yankees jumped on the Orioles in the first for 12 runs.NEW YORK -- The Yankees had never scored as many as 12 runs in the first inning -- until Saturday night.
The Yankees put up a 12-spot in the first against the Baltimore Orioles during the second game of a day-night doubleheader. According to the Elias Sports Bureau, the Yankees' previous high for first-inning runs was 10, set on July 28, 1924, in Chicago against the White Sox and then accomplished again on July 10, 1980, in Texas against the Rangers.
The 12 runs were the most the Yankees scored in a single inning since June 21, 2005, when they plated 13 in the eighth against Tampa Bay.
During Saturday night's outburst, the Yankees sent 17 hitters to the plate, pounded out 10 hits -- including two doubles and a two-run home run by right fielder Nick Swisher -- walked once and reached on a pair of errors. There were 70 pitches thrown and the time of the inning was 38 minutes, 49 seconds.
All nine of the hitters in their batting order had at least one hit and at least one run scored. Derek Jeter led off the first by striking out, but the next nine Yankees reached base.
They scored nine of the 12 runs off Orioles rookie right-hander Zack Britton in just a third of an inning.
In his last two starts, Britton has pitched one inning and allowed 17 runs (13 earned), giving him an ERA of 117.00 with a 16.00 WHIP in that span, according to ESPN Stats & Information. He had allowed 17 runs in his previous five starts spanning 28.0 innings.
The 12 runs were the most the Orioles have ever allowed in a first inning. Their previous high was 11 runs, done three times: Sept. 20, 1983, at Detroit; Aug. 3, 1956, in Chicago against the White Sox; and July 6, 1954, at Cleveland.
Here's the Yankees' box score during the frame:
• Derek Jeter, 1-2, 2 RBIs
• Curtis Granderson, 1-2
• Mark Teixeira, 1-1, 2B, BB, 2 RBIs
• Robinson Cano 2-2, 2 RBIs
• Nick Swisher 1-2, HR, 3 RBI
• Andruw Jones. 1-1 2B, BB, RBI
• Russell Martin, 1-2 RBI
• Eduardo Nuñez, 1-1 RBI
• Brett Gardner, 1-1
You can follow Mike Mazzeo on Twitter: @MazzESPN