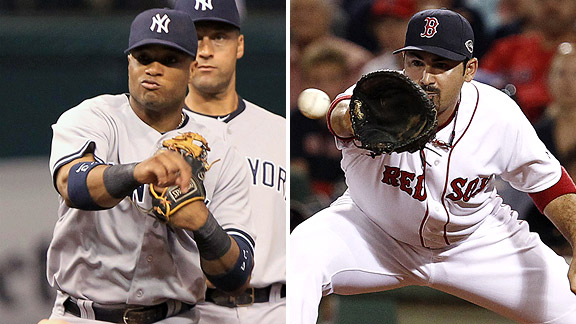 Kim Klement, Mark L Baer/U.S. Presswire
The ability of Robinson Cano and Adrian Gonzalez to successfully field their positions could be a huge factor in this weekend's Yankees-Red Sox series.
It's relatively easy to measure how the Yankees and Red Sox match up in terms of offense and pitching.
But how do we best evaluate them defensively heading into their weekend series?
We're going to try looking at a few of the defensive storylines. To help us, we'll use two means of evaluation.
Defensive runs saved measures the value of a player in the field, combining the ability to turn batted balls into outs with other skills integral to success at his position.
For example, middle infielders are rated on converting double plays, corner infielders on defending bunts and outfielders and catchers for the deterrent value of their throwing arm.
We supplement that with video review done by Baseball Info Solutions. Their video scouts categorize plays, tagging them into more than 30 categories of good fielding plays (GFP) and 50-plus categories of defensive misplays & errors (DM&E).
In simplest terms, think of a GFP as a Web Gem nominee, and a DM&E as a play that, if you were watching, made you pound your fist in frustration.
ESPN analyst Chris Singleton, who will call the games on ESPN Radio on Saturday and Sunday, also provided his perspective on what to watch for defensively in each positional matchup.
First base
Oddly, neither Mark Teixeira nor Adrian Gonzalez has fared well under the new defensive metrics. Both consistently rank average to below average in defensive runs saved.
But both excel in matters that require video review.
Teixeira vs. Gonzalez
2011 Defensive Breakdown
Teixeira has been awarded the second-most good fielding plays among major league first basemen by BIS' video scouts, and he's one of four first basemen to have a better than 3-to-1 ratio of good fielding plays to defensive misplays & errors.
What Teixeira does best is get to ground balls that are likely to be hits. He leads the majors by a wide margin on good fielding play-ground ball out with 22.
Gonzalez rates well too, though he's a distant third to Teixeira. Both also fare well in good fielding play-handling difficult throw, in which players get credit for scooping throws out of the dirt, or lunging to catch a throw headed for the stands, while staying on the bag.
Singleton's W2W4: "With Gonzalez, it's hard to tell if a play is difficult. He's so smooth that he simplifies difficult situations. Teixeira is your flopping, catching, stretching, max effort guy."
Second base
Red Sox second baseman Dustin Pedroia's defensive numbers have improved significantly. He enters the weekend with 12 defensive runs saved and comes off a month of July in which he not only won AL Player of the Month, but could have won Defensive Player of the Month, finishing it with seven defensive runs saved (he placed second to Mariners shortstop Brendan Ryan in a Baseball Info Solutions-organized vote of experts).
Cano vs. Pedroia
Defensive Runs Saved Ranks
Pedroia's rating at converting balls into outs has improved greatly on balls hit toward the middle of the diamond, an improvement that may be due to the presence of Gonzalez at first base, allowing Pedroia to cheat toward the middle.
Baseball Info Solutions video scouts have also credited Pedroia with six instances of "starting a double play quickly." He's tied for the most in the majors with Rangers second baseman Ian Kinsler. Last season, Pedroia was not credited with any such plays.
After back-to-back seasons of significant defensive improvement, Robinson Cano's numbers are not as stellar in 2011. Cano ranked eighth in the majors combining 2009 and 2010 with 11 defensive runs saved. This season, his position is viewed as costing the Yankees four runs.
Video review has also not been kind to Cano. He's already been credited with 41 defensive misplays & errors, most of any second baseman, and already nine more than he had in 2010. Cano's most frequent miscue: 10 instances in which a ground ball went right past him or through him and resulted in a baserunner.
Cano's biggest strength is the ability to pivot on the double play more quickly than the average player. He's been credited with six good fielding plays for doing so in 2011, third most among second basemen in the majors.
Singleton's W2W4: "When you look at this position, you compare the impact they make by making plays. Pedroia is a guy who can make a big defensive play -- an energy play. It's about effort, like a diving play to stop a rally. With Cano, I think of him turning a double play smoothly, like a ballerina."
The outfield
Statistically speaking, Yankees left fielder Brett Gardner and Red Sox center fielder Jacoby Ellsbury are having fantastic defensive seasons. Gardner has overtaken Carl Crawford as the AL leader in defensive runs saved. Ellsbury's 13 defensive runs saved rank second among big league center fielders, due largely to his ability to get to balls hit to the shallowest parts of center field.
While those two are thriving, their counterparts are struggling statistically.
Crawford's defensive numbers have nosedived with the transition from Tropicana Field to Fenway Park, particularly with balls hit to the deepest parts of left field. Center fielder Curtis Granderson's numbers are also off their usual level of excellence.
If there is such a thing as a defensive slump, Granderson seems to be in one. He had 18 good fielding plays and 12 defensive misplays & errors in the first three months of the season. But in July, his good play to misplays & errors ratio was 4-to-7. That's due to instances like last Wednesday against the Mariners, when Granderson had a ball bounce off his glove for a triple and lost a ball in the sun that fell for a double.
Defensive Runs Saved by Outfielders
2011 Season (AL Rank)
One other player to watch is Red Sox right fielder Josh Reddick, who has fared very well in limited innings. Reddick already has four defensive runs saved.
Singleton's W2W4: "Carl Crawford is a really good athlete defensively. Sometimes, there are plays that he makes but they didn't look smooth.
"I think you can go into a defensive slump. You can lose your rhythm and timing on balls where you don't seem to be in sync. You want to get into a position where you can make a slide or a dive if you have to do that.
"Sometimes, you'll cheat with the position of your body, so that you can make that stride toward left center or right center. With a center fielder, it could be something as simple as not seeing home plate well. Sometimes you'll be a step away, where you'd normally get to a ball.
"In Fenway Park, right field is center field. I saw Reddick make some nice plays when we did that 16-inning game in Tampa. I think he's a cleaner version of Trot Nixon. He plays all-out. He takes pride in everything he does in the field."