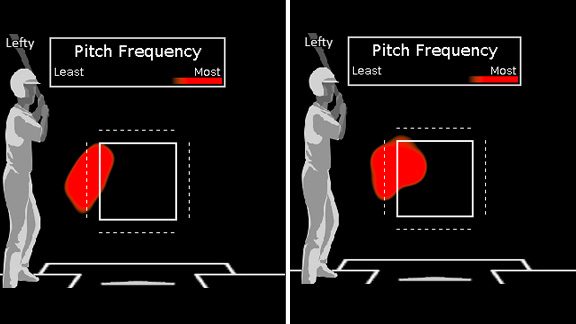 Left: The primary pitch location for Mariano Rivera's cutter to LHB in 2010.
Right: The primary pitch location for Rivera's cutter to LHB in 2011
Yankees closer Mariano Rivera has had some significant issues in his last two appearances for the Yankees and one of the reasons for this is an issue he's having with his trademark pitch.
As Bill Chuck noted a few weeks ago, in a piece on BaseballAnalytics.org, that Rivera's cutter was not as sharp as it had been in previous seasons.
LHB vs Mariano Rivera
BA Last 4 yrs
That became apparent again with his blown save against the Red Sox and loss to the Angels these last two games.
Bobby Abreu's home run was the first by a left-handed hitter against Rivera this season, but lefties have had more success with Rivera than usual, hitting .267 against him in 2011, an increase of 53 points from last season and 85 points from 2009.
Mariano Rivera Cutter
Vs LHB (Last 3 seasons)
My blogging colleague, Katie Sharp, also noted Rivera is inducing ground balls from left-handed hitters at a rate far lower than in the previous two seasons, as you can see in the chart on the right.
Also of note: Rivera is not putting hitters away with two strikes as well as he usually does. Rivera gave up a hit on a 2-2 count to Alberto Callaspo to start the ninth inning on Tuesday . He's given up 16 hits in favorable two-strike counts (0-2, 1-2, 2-2) this season, nearly twice as many as he did in 2010 (9).
Notable Mariano Rivera struggles in 2011
Opponents vs Mariano Rivera
On 0-2, 1-2, 2-2
April 19-- Rivera blows a two-run lead in the ninth inning, allowing the tying run to score on John McDonald's squeeze bunt. The Yankees lose, 6-5 in 10 innings, on Travis Snider's game-ending double against Ivan Nova.
May 28-- The Yankees lose to the Mariners in 12 innings as Adam Kennedy beats Rivera with a bases-loaded walk-off single.
July 3-- For only the second time in his career, Rivera blows a save chance against the Mets. This one comes after two were out and no one was on base. A walk to Jason Bay was followed by hits by Lucas Duda and Ronny Paulino that tied the game. The Mets won in 10 innings on a walk-off hit by Bay.
August 7-- Rivera blows a save chance on Sunday Night Baseball against the Red Sox, allowing a leadoff double to Marco Scutaro and then a sacrifice fly by Dustin Pedroia. The Red Sox win in the 10th inning on Josh Reddick's hit off Phil Hughes.
August 9-- The Elias Sports Bureau notes that Bobby Abreu became only the second former teammate of Rivera's to homer against Rivera, joining ex-Yankee Mike Stanley, as the Angels score two runs in the ninth inning to beat the Yankees.