Last year around this time, Curtis Granderson was a lost soul at the plate.
He was batting a paltry .239 with just 10 homers through his first 87 games as a Yankee.
Frustrated with the results and with the boos in the Bronx growing louder by the day, Granderson went to hitting coach Kevin Long -- bat in hand -- to try to retool his swing.
"I wanted to … be a little bit more consistent on balls I felt like I was missing," Granderson said of his early August swing session with Long. "By no means was it to increase in power or increase in distance or anything like that."
Talk about unintended consequences.
In the 161 games following the tutorial, Granderson has 45 homers. Forty-five.
He hit two more on Wednesday in a 9-3 rout of the Angels to set a career high and make up for a costly baserunning gaffe in Tuesday night's loss.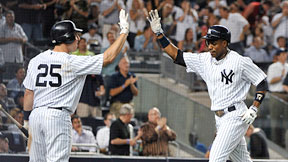 AP Photo/Kathy Kmonicek
Curtis Granderson hit his 30th and 31st homers on Wednesday, setting a new career high.
Granderson now has 31 homers on the season, one fewer than Mark Teixeira's team-leading 32 and two fewer than Jose Bautista's MLB-leading 33.
Incredibly, the speedy center fielder still refuses to call himself a home run hitter.
"Not at all," Granderson said when asked if he was ready to admit that he digs the long ball. "I got one more than my career high, so nothing major has been different right now except they've come a little bit quicker."
Granderson, whose previous career high was 30 homers set in 2009, hit a three-run blast off Angels rookie Garrett Richards in the first.
In the fifth, he added a solo shot off Richards, who was making his major league debut.
"I think the main thing tonight was just trying to match aggression with aggression," Granderson said of the Yankees' approach against Richards. "Their pitcher tonight was very confident and comfortable."
The same can be said of the Yankees center fielder.
Granderson has three homers in his last two games -- the two on Wednesday making up for his caught-stealing with two out in the ninth and Teixeira at the plate in Tuesday night's loss.
Granderson now has 10 multihomer games this year and leads the majors with 104 runs scored. He's on pace for 42 homers, 126 RBIs and 147 runs.
That's some turnaround from last August, when Yankees fans were calling for Granderson's job.
Joe Girardi insists he never lost faith in Granderson. But even the Yankees manager couldn't predict that Granderson would be this good after the early August hitting session with Long.
"No I didn't," Girardi said. "But he's been some kind of player."