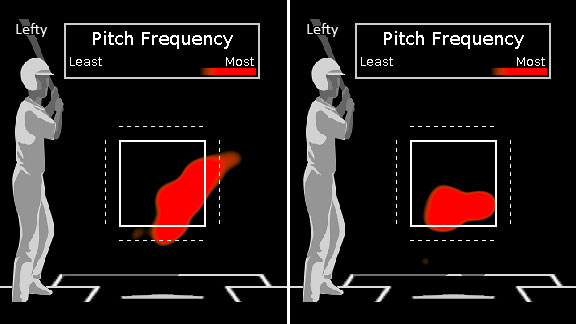 Left: The primary pitch location for Ivan Nova's offspeed pitches to LHB in his first 14 appearances.
Right: The primary pitch location for Nova's offspeed pitches to LHB in his last six appearances
Ivan Nova What2Watch4
Nova is 7-0 with a 3.10 ERA in his last eight starts and the Yankees have won all eight of those games. As was pointed out inthe last edition of Yankeemetrics, Nova is the first Yankees rookie starter to win seven straight decisions since Tom Morgan in 1951. Via Elias: He's trying to become the first to win eight or more in a row, all as a starter for the Yankees, since Hall-of-Famer Whitey Ford in 1950.
Left-Handed Hitters vs Ivan Nova
2011 Season
Nova induced a season-high 17 ground balls, 14 of which were turned into outs in his start on Wednesday against the Angels.
One of the biggest keys to Nova's turnaround: Over his last six starts, left-handed hitters are 9-for-61 with one extra-base hit against him.
Nova has worked a slider into his offspeed repertoire with effectiveness, netting six outs on 10 pitches thrown to lefties over his last two starts.
"I think I just throw it with more confidence," Nova told Ian Begley on Sunday. "When I was in the minors, it was the right time to practice it. I wasn't sent down because I was pitching bad, I got sent down because they needed a roster spot. So why not spend that time working on your technique? (I worked on) pitching inside, working on my slider. And now you see how it is."
The offspeed pitches have been significantly better for Nova lately, as both the chart on the right and the heat map at the top of this article indicate.
Danny Duffy What2Watch4
This will be the first time the Yankees see Duffy, a left-hander, whose fastball averages around 93-miles-per-hour and has reached as high as 98 miles-per-hour.
The Elias Sports Bureau reports that the Yankees are 13-4 this season in games in which the opposing team uses a starting pitcher that had never before faced the Yankees.
The Yankees have won their last eight games of that type, including three in the past week (in games started by the Angels' Garrett Richards and Tyler Chatwood, and the Royals' Felipe Paulino). Their last loss in a game like that was to Ubaldo Jimenez and the Rockies on June 24.
Duffy has struggled against right-handed hitters this season, which plays right into Derek Jeter's hands. Jeter is now hitting .369 against lefties this season, second in the majors to Dustin Pedroia's .403.
In his last four starts, Duffy has walked 12 in 20 2/3 innings.
Curtis Granderson What2Watch4
Granderson is 1-for-his-last 11 against left-handed pitching, but enters with five home runs in his last six games overall. All five have come against right-handers. He's homerless in his last 21 at-bats against left-handed pitching. He's averaged a home run every 12.6 at-bats against southpaws this season.
Granderson's next hit against a lefty would give him 38, matching the most he's ever had in a season against left-handed pitching (he had 38 in 2008).
Statistical Domination2Watch4
The Yankees are 100-39 (.719 winning percentage) against the Royals since the start of the 1995 season. That's their best record against an AL team by a considerable margin (they have a .658 winning percentage against the Orioles). In that span, they've outhomered the Royals 185-89 and outwalked them 621-392.