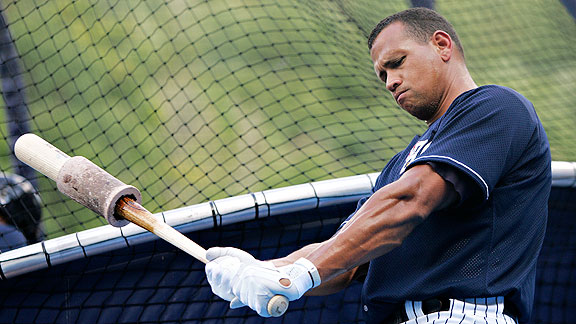 AP Photo/Rich Schultz
ESPNNewYork.com is in Moosic, Pa., as A-Rod makes his first rehab start for Triple-A Scranton.Alex Rodriguez is playing in a rehab game tonight for Triple-A Scranton/Wilkes-Barre as he attempts to come back from a torn meniscus in his right knee that has caused him to miss the Yankees' last 33 games. Rodriguez, who is batting third and playing third base tonight, will also play for Triple-A Scranton tomorrow as well. The hope is that Rodriguez will be able to rejoin the Yankees on Thursday in Minnesota, assuming he doesn't have any setbacks.
Here's ESPNNewYork.com's live blog of A-Rod's night:
Top 7th: Rodriguez's night is over. Brandon Laird is now at third.
Bottom 6th: Rodriguez popped up to second. He's now 1-for-3 at the plate. He tossed his batting gloves into the stands. It was not out of frustration. Well, actually ...
Top 5th: Rodriguez overruns a foul ball down the third base line and is promptly booed by the crowd. Rightfully so. The official scorer doesn't charge Rodriguez with an
error, but he should've.
Top 4th: Rodriguez cleanly fields a chopper and steps on third for the force to record the final out of the fourth.
Top 4th: Rodriguez is able to finally test out his knee as he goes after a foul ball behind third, but can't catch up to it.
Bottom 3rd: With two outs and a runner on third, Rodriguez hit a shot into the left-center field gap, but Durham center fielder Brandon Guyer ran it down, robbing Rodriguez of extra bases. Rodriguez is now 1-for-2 at the plate, but has hit the ball hard both times.
Bottom 3rd: Through three defensive innings, Rodriguez has yet to be tested in the field.
Bottom 1st: With cameras flashing, a near-capacity crowd cheering and two mounted officers stationed in center field, Rodriguez ripped a line-drive two-out single into right field.
He didn't really run all that hard out of the box. Rodriguez then jogged to second after Jesus Montero singled into right field, but was stranded there.
Pregame: Rodriguez arrived at PNC Field at 3 p.m. He finally came out to the field at 4:04. He stretched, played catch, took ground balls and did three rounds of batting practice before retreating back into the clubhouse.
The Scranton Yankees normally draw about 3,000 fans per game, but Rodriguez's appearance drew several thousand more to Moosic, Pa. According to an anchorwoman at the local Scranton ABC affiliate, as of 5:30 p.m. just 800 seats remained available in the ballpark, which seats approximately 10,000 fans.
The "Bud Light Bullpen" out in right field is packed with a couple hundred fans who are standing. Of note are two mounted police officers on horses, who are stationed out in dead center field.