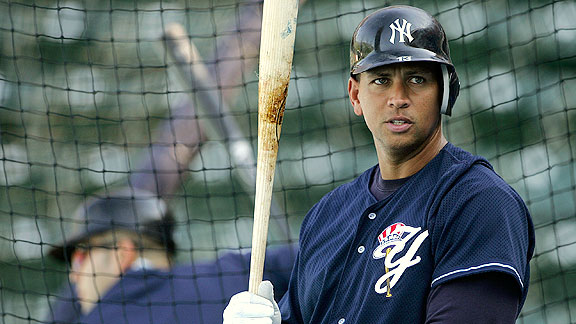 AP Photo/Rich Schultz
ESPNNewYork.com is in Moosic, Pa., as A-Rod makes his second rehab start for Triple-A Scranton.Alex Rodriguez is likely going to rejoin the Yankees tomorrow night in Minnesota, but may not be activated right away, according to Joe Girardi. Tonight, Rodriguez will play what should be his second and final rehab game for Triple-A Scranton. He said before the game that his knee feels good, and that he wants to get around four at-bats.
Here's ESPNNewYork.com's live blog of A-Rod's night:
Rapid Reaction: Alex Rodriguez went 1-for-2 with an eighth-inning RBI single, two walks and a strikeout on Wednesday night. He also made an error during an eight-inning stint at third base.
Bottom 8th: Rodriguez rips an RBI single into right and leaves for a pinch-runner. He finishes 1-for-2 with an RBI and a pair of walks.
Top 8th: Rodriguez cleanly fields a bouncer and fires on to first to record the out.
Top 7th: The largest crowd of the season -- 10,408 -- in attendance for this one. It's Triple-A Scranton's largest crowd of the season. They react with cheers after Rodriguez snags a liner.
Bottom 6th: Rodriguez takes a called strike three. He's now 0-for-1 with a pair of walks.
Top 5th: Breaking News! Rodriguez has caught a popup. The crowd gives him more mock cheers.
Bottom 4th: Rodriguez fights back from an 0-2 hole to draw his second walk tonight. The crowd boos Moore this time.
Top 2nd: Rodriguez lets a grounder go under his glove on the backhand side. He should've been charged with his second error of the evening, but the official scorer is feeling rather generous tonight.
Rodriguez cleanly handles a chopper off to the side and throws on to first to get the out.
Bottom 1st: Rodriguez, facing Durham's top pitching prospect Matt Moore, works an eight-pitch walk. He's able to test out his knee a little bit, running the bases on Jorge Vazquez's inning-ending flyout to deep center. Rodriguez doesn't look as tentative as he did Tuesday night, but he's not exactly busting it either.
Top 1st: Now he lets a grounder scoot under his glove on the backhand side. Should've been his second error of the evening, but the official scorer is feeling rather generous tonight.
Rodriguez cleanly fields a hot smash to third and steps up the bag for the force to end the frame. Cue up the mock cheers.
Rodriguez lets a potential inning-ending double play ground ball go under his legs for an error. The crowd boos. Again At least he can catch popups, when he throws them up and catches them right in front of the Scranton dugout as he did before the game ... that is. Rodriguez has had four balls hit to him in two games in Scranton.
Pregame: Rodriguez launched several balls over the outfield wall in batting practice. His longest shot may have been one that caromed off the scoreboard in left field. Although it's only BP, Rodriguez looked locked in at the plate. His defense certainly needs to improve, but the Yankees will be bringing him back to produce runs in the middle of their lineup, and may DH him a lot early on after they activate him from the disabled list.
Rodriguez stepped onto PNC Field at 4:03 p.m. and proceeded to stretch, play catch, take ground balls and then take BP, much like he did yesterday.
The crowd is still filing into the ballpark, but it looks like it's going to be a good turnout. The Triple-A Yankees normally average 3,000 fans per game. There are several thousand more than that here tonight.
For our story on A-Rod's rehab start last night, plus video, click here.