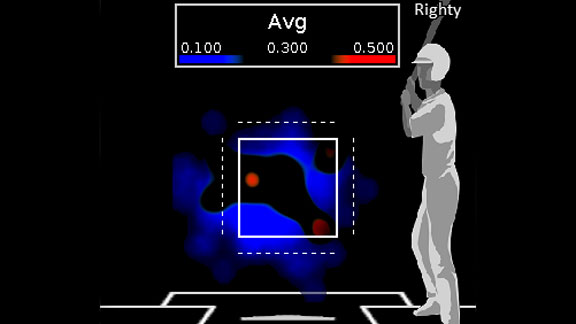 The heat map above shows Russell Martin's vulnerabilities (blue) and strengths (red) against curves, sliders and changeups this season.It's not easy to have a multi-homer game at Minnesota's Target Field. Only three players had done so prior to Friday night, all of whom are noted for their strength -- Jim Thome, Jose Bautista and Carlos Quentin.
Go figure that Yankees catcher Russell Martin joins that list (and as was the buzz on Twitter, as he now has more home runs at Target Field than catching counterpart Joe Mauer) after his pair of home runs Friday night.
This is the first time since June 29 that Martin ended a day with a batting average above .230. He now has three homers in his last two games. Perhaps the best thing about the day concerned that first home run, off a hanging curveball from Twins starter Kevin Slowey.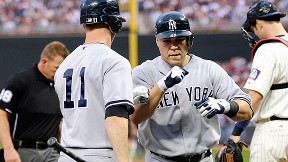 Hannah Folsien/Getty Images
Russell Martin overshadowed Joe Mauer on Friday.One of the roots of Martin's ongoing struggles has been his inability to hit off-speed pitches. Since July 23, Martin had made 25 outs and had just one hit (a single against Angels reliever Joel Pineiro) against curveballs, changeups and slider. He hadn't had a home run against a pitch of that type since June 29 against the Brewers, when he hit a three-run shot on a Shaun Marcum changeup.
It was Martin's second home run of the season against a curveball, the first since April 9 against Red Sox starter Clay Buchholz.
Martin had gotten back to hitting heaters again upon returning from the All-Star break. He entered Friday hitting .344 in at-bats ending with a fastball variant (including cutters, sinkers and splitters), and padded that with his second home run of the game.
But the slow stuff had been perplexing him for quite some time. Since the All-Star break, nearly 70 percent of his swings against off-speed pitches resulted in either foul balls or misses. That's an increase of more than 10 percentage points from the first half.
That's why his batting average against such pitches is .175 and his batting average on balls in play against them is .186 (the major league averages are .224 and .283 respectively).
Martin is normally smart about deciding whether to swing. He actually ranks among the least likely to chase an off-speed pitch out of the strike zone. He just hasn't been doing anything with the ones he's hit.
On Friday, his timing was just right against one of those pitches. The timing couldn't be better than the stretch for him to get back on track against them for good.