WHAT IT MEANS: Mariano Rivera has 600 saves. His next one will tie him with Trevor Hoffman for the all-time record.
Mo On 50 Greatest Yankees List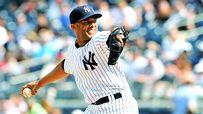 Mariano Rivera is approaching baseball's career saves record. So where does he rank among the all-time Yankees?
ESPN NY's Top 50 Yankees

Vote
RIVERA NUMBERS: Rivera recorded his first save on May 17, 1996, vs. the Angels. His most saves are against the Orioles with 70. This was his 34th save against the Mariners. He has had eight years with 40 saves or more. He has 41 this season.
He finished off more of Andy Pettitte's games (68) than any other starter. That is most of any combo ever.
And this, thanks to Yanks PR, the cost of gas when Rivera picked up his first save was $1.30. The most popular song in the land was Los Del Rio's "Macarena."
A.J. BEING A.J.: On this night, it wasn't such a bad thing because A.J. Burnett, as he is wont to do, sometimes puts up some strong performances. Tuesday night was one of those nights. Burnett gave up two early runs, but that was it. He struck out 11. You have to give him credit. However, the Mariners' offense is the worst in baseball so that has to be factored in.
RIBEYE MAN:In the second, Robinson Cano hit his 26th homer of the year, which also meant he had a new career-high in RBIs with 110. He added No. 111, the go-ahead run, in the sixth on a fielder's choice. The inning ended, though, when Cano didn't know how many outs there were on a one-out long fly ball.
JESUS HITTING, NOT RUNNING WELL: Jesus Montero, as the team's DH had hits in his first two at-bats. The second was a rifled double. However, on Andruw Jones' ensuing sharp grounder, Montero fell asleep on the bases and got nailed trying to retreat to second.
SEVENTH HEAVEN: Rafael Soriano looked very good during his 1-2-3 seventh.
EIGHTH WONDER: For fun, David Robertson loaded the bases in the eighth before striking out Trayvon Robinson to end the inning.
WHAT IS NEXT: Ivan Nova (15-4, 3.94 ERA) goes for win No. 16 against Jason Vargas (8-13, 4.49). The Yankees have an off day Thursday before playing three against the Blue Jays over the weekend. Next week is the final home stand of the season. Remember, there is a makeup game on Monday afternoon against the Twins before the Rays play four in three days (doubleheader on Wednesday). The Red Sox come into town for three (Sept. 23-25). The Yankees finish up the regular season at the Rays.
COMING ATTRACTIONS: I'm writing Mo. What else?
QUESTION OF THE MORNING: What does Mariano Rivera's 600th save mean to you? What is your favorite memory?