Robinson Cano hobbled around the Yankees' clubhouse, looking like Willis Reed in 1970.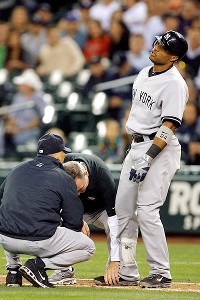 Joe Nicholson/US Presswire
Robinson Cano gave the Yankees a scare, but he said he's good to go.
In the 12th inning, a 95 mph Steve Delabar fastball connected with the second baseman's right foot.
Cano stayed in the game, but had X-rays immediately after the Yankees' 2-1 loss to the Mariners.
"I'll be ready to play Friday," Cano said in an empty Safeco clubhouse, the last player to leave to take the charter to Toronto.
In the 12th, Cano took the fastball and hobbled to first. Yankees manager Joe Girardi and trainer Gene Monahan sprinted out to attend to Cano, but Cano said he knew the foot was not broken.
Girardi and Monahan inspected Cano and allowed him to remain in the game.
Cano almost made it so the Yankees didn't have to go to extra innings. In the ninth, he hit a two-out double. But after an intentional walk to Nick Swisher, Jesus Montero struck out to end the inning.
Cano, who is hitting .305 with 26 home runs and a career-high 111 RBIs, said he will ice the foot on Thursday and, if his progress continues, he will play Friday in Toronto.