In case you couldn't tell from watching, the numbers show that something's wrong with C.C. Sabathia's fastball
Since the beginning of August, hitters have been crushing Sabathia's heater like few others in the major leagues.
Overall, it's been hit to a .408 batting average by opponents over his last nine starts. Entering Tuesday, there were only three pitchers whose fastball had been hit for a higher average in this stretch.
The unfortunate leader happens to be Sabathia's teammate, A.J. Burnett (.466).
CC Sabathia
Last 9 Starts
The pitch location hasn't mattered. If the ball is in the strike zone, it's getting pummeled. The Rays bopped Sabathia's fastball for four home runs the last time they faced him last month (they hit five against him in the game). Since then, Sabathia has yielded only one long ball with his fastball, but he's given up 34 other hits with it.
Sabathia's fastball velocity is not down at all comparatively. It's still coming in at an average of 94.4 miles-per-hour. It's going out at a faster velocity too, particularly when Sabathia throws it waist-high.
Since August 1, opponents are 27-for-53 (.509 batting average, .849 slugging percentage) in an at-bat that ends with a belt-high fastball. They hit .290 against it, with a .355 slugging percentage (meaning it was mostly hit for harmless singles) prior to this slump.
Recently Sabathia has had unusual issues getting hitters out when they hit his fastball on the ground. In this most recent six-start stretch, a Sabathia fastball yielding a ground ball has resulted in 21 outs and 18 hits.
Those numbers should not be almost even. They shouldn't even be close.
Looking back to the start of the 2010 season up to the start of this stretch of struggle, Sabathia's fastball averaged netting three outs (not even including the second out on a double play) for every hit it gave up.
Those ground-ball numbers could be an indicator that the Yankees haven't defended as well as they should have. It could also be a sign of a few bad-luck base hits.
That day, Sabathia reduced the use of his fastball to about half of his pitches. Typically, in a 100-pitch day, Sabathia will throw around 59 fastballs and 23 sliders. He's raised his slider usage to be about one-third of his pitches in his last three starts, cutting back to throwing 50 to 52 fastballs per game, mixed in with his changeup.
Sabathia has survived because his slider, for the most part, has been very, very good. Remember the Blue Jays start on September 4, one Sabathia won largely because he posted seven whiffs with his slider.
But there is something amiss with his primary pitch, and it's up to Sabathia to figure that out. And fast.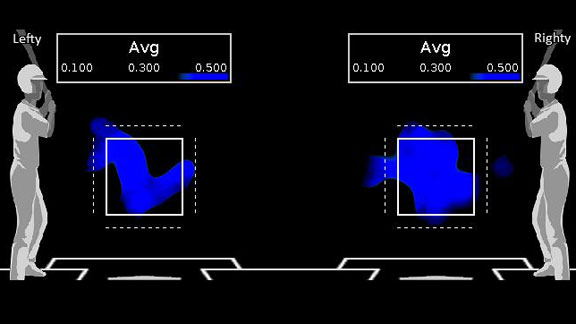 CC Sabathia's fastball has gotten pummeled by opponents since the start of August. The heat maps above show the pitch locations that have been hit the hardest.