NEW YORK -- Derek Jeter had that just-got-out-of-bed look on his face as he fielded reporters' questions Thursday afternoon, the day before his favorite time of the year.
"I got home at 4:30 a.m.," the New York Yankees' captain said. "I don't even know what I'm saying right now."
You can safely assume Jeter will be fully alert Friday night, when the Yankees play host to the Detroit Tigers in Game 1 of the American League Division Series.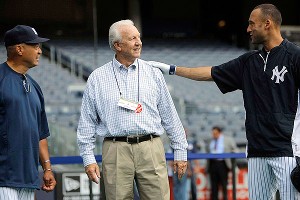 John Munson/THE STAR-LEDGER/US Presswire
Derek Jeter caught up with Hall of Famers
Reggie Jackson and Al Kaline on Thursday.
"This is why you play -- to get an opportunity to play in the playoffs," said Jeter, who has appeared in 147 postseason games during his 16-year career.
"It's not fun yet," he continued. "I'm tired, man. We just got in a couple of hours ago, so I'm not excited yet. I'm not ready for it yet. The excitement starts tomorrow."
Not long ago, the thrill seemed gone for Jeter.
First, there were tenuous contract negotiations over the winter. Then there was an abysmal start to the season, the one that prompted pundits to wonder aloud if the 37-year-old was indeed done. And in June, Jeter hurt his right calf, was placed on the disabled list and missed 18 games.
On July 9, five games after he was activated from the DL, Jeter became the 28th player in baseball history to join the 3,000-hit club, going 5-for-5 in the game and blasting a home run for the milestone hit.
And he hasn't looked back.
The day after Jeter's epic performance, manager Joe Girardi defied reporters to doubt that his shortstop couldn't hit .320 the rest of the way.
Jeter did his manager six points better, hitting .326 with an .806 on-base plus slugging percentage in his last 64 games of the season with 17 extra-base hits. The same player who was hitting .256 on July 4 finished the 2011 season with a .297 batting average
As Fox analyst Tim McCarver said last Saturday during a Yankees-Red Sox broadcast, after Jeter homered off Jon Lester: "All of Derek Jeter's critics earlier in the season are hiding under a rock somewhere. A big rock. They've disappeared. You never hear from them. What's happened?"
On Thursday afternoon, Girardi addressed those comments he made back on July 10.
"I just know the quality of person, the quality of the athlete, and what's inside of him," Girardi said. "As I said, I would never doubt Derek Jeter. I don't care how old he is. I really don't. This is a man who has a ton of pride in what he does and works very hard. If it can be overcome, he will find a way to do it."