NEW YORK -- Joe Girardi calls it a "trickle effect."
When Gold Glove first baseman Mark Teixeira scoops a throw in the dirt, it means more than one out in one inning of one game of 162.
It saves an infielder the embarrassment of a throwing error, and, in some instances, keeps a run off the board. It saves the pitcher from throwing extra pitches, allowing him to potentially go deeper in a game -- which in turn saves the Yankees' bullpen from extra work.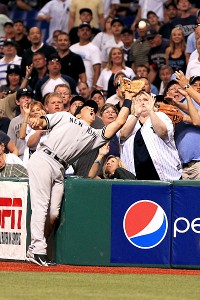 Kim Klement/US Presswire
It doesn't get talked about much, but Mark Teixeira's defense pays huge dividends for the Yankees.
"Tex saves us numerous pitches, numerous outs," CC Sabathia said. "I think he's the best defensive first baseman in the league, so it's good to have him on our side."
There are many reasons why the Yankees open the playoffs Friday night with the top seed in the American League.
The offense hummed along for most of the season despite extended absences by Derek Jeter and Alex Rodriguez. The bullpen weathered an injury to Joba Chamberlain and inconsistency from Rafael Soriano. The starting rotation -- an unknown coming into the spring -- performed above expectations despite a subpar year from Phil Hughes and another enigmatic season from A.J. Burnett.
But one of the more underappreciated aspects of this season has been team defense. Girardi's club finished the season tied for the fourth-best fielding percentage in the American League, five-hundredths of a percentage point behind MLB-leading Tampa Bay.
And Teixeira was a driving force behind that.
The four-time Gold Glove winner finished the year with a .997 fielding percentage, second only to Casey Kotchman's league-leading mark .998. He made just four errors in the regular season -- none handling throws at first.
Teixeira also recorded the second best Ultimate Zone Rating among first basemen -- a fielder;s defensive contribution measured in theoretical runs below or above an average fielder.
But Derek Jeter doesn't need to know Teixeira's UZR to recognize his value.
"He works hard on his defense and he takes a lot of pride in it," Jeter said. "He's done a great job."
Robinson Cano took it a step further.
"We all knew when he came here how good he was at first base but that guy's unbelievable," he said. "You feel comfortable you can throw anything over there and he can pick it."
Added reserve infielder Eric Chavez: "I'm blown away by all the plays that Teixeira makes -- I don't think anyone really knows how valuable it is."
It wasn't always easy for Teixeira at first base. He came up playing third with the Texas Rangers but, with Hank Blalock on the rise, the Rangers' hierarchy asked him to move across the diamond.
Cleveland Indians third base coach Steve Smith -- then with the Rangers -- helped Teixeira get acclimated.
"It was perfect, he was meant to play first base," Smith said in a phone interview. "His arms are so damn long that we used to call him the gadget man (an Inspector Gadget reference). With those arms, it was incredible."
Teixeira won his first Gold Glove in 2005, in essentially his third season at the position. He has won three more since, with a career fielding percentage at first base of .996. He has only made more than five errors at first base in a season once -- in 2004, when he made 10.
"He doesn't have any weaknesses, really," said Yankees first base coach Mick Kelleher.
The axiom "defense wins championships" is thrown around regularly in NBA and NFL circles. But Teixeira believes it applies to baseball as well. He certainly hopes to prove it true in October.
"I think the playoffs just really show the importance of defense because all it takes is one tough play on defense and you lose a game and you might lose a series," Teixeira said. "You're going to make outs, you're going to strike out, you're not going to get a hit every time up, but if a team goes out there and plays solid defense you're going to give yourself a great chance to win."