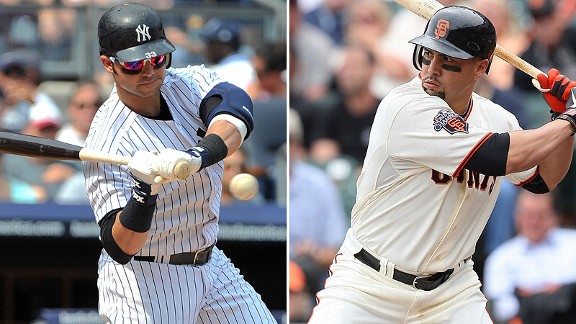 Getty Images
Who's right for the Yankees: Nick Swisher or Carlos Beltran?In the previous post, Wally goes through an interesting possible dynamic in right field.
If you look at the Yankees' position players, the most realistic place for them to make a change are in the corner outfield spots. Brian Cashman and Joe Girardi love Brett Gardner. Gardner, 28, made $530,000 last year and that number should rise for next year, but it's a great Yankee bargain given his production. Thus, it is doubtful the Yankees will do anything there.
At catcher, Russell Martin -- who can't become a free agent -- figures to be back, while Jesus Montero can assume the DH/backup catcher job.
So right field is the most likely spot for a change to occur. Personally, I can't see the Yankees declining Swisher's option. At worst, I would think they would pick it up and then deal him. At the least, they will look into that, while keeping tabs on what is happening in the free agent outfield market.
If you could trade Swisher and a prospect for No. 3 or so starter, it may be a good move.
Here is my question for you to answer below: Forgetting what Swisher could maybe bring in a trade, whom would you rather have? Swisher or Beltran?