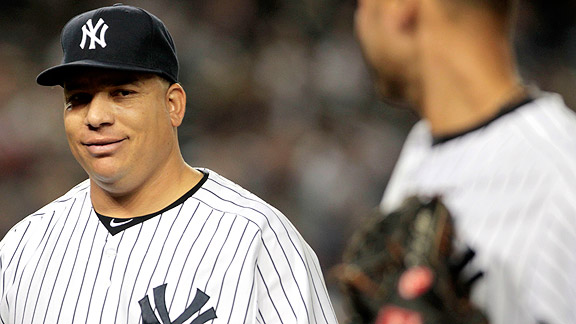 Noah K. Murray/The Star-Ledger/US Presswire
Bartolo Colon as a New York Yankee: It was fun while it lasted.Bartolo Colon, the Yankees' lifesaver for the first three months of last year, is headed to Oakland, Jayson Stark reports. It is no surprise since there was no room in the Yankees' rotation, and as you may have heard they were a little busy on Friday.
Colon, who will turn 39 in May, went 8-10 with a 4.00 ERA in 29 appearances. As you know, he had barely pitched the previous five years.
Even with just 29 appearances, Colon left his mark on Yankees history.
The first great thing about Colon was he came into camp looking the way he did. He was laughing and saying he was going to lose 25 pounds, but I'm not sure he ever got around to it. (OK, I know he didn't.)
Still, it didn't really matter for awhile since he was nearly an All-Star.
Through the All-Star game, Colon was 6-4 with a 3.20 ERA in 90 innings. Everyone expected him to run out of gas, and he eventually did. He never did lose his smile, though. He was like the cat who ate the canary. (I know, I know, he might've really eaten a canary.)
He's a playful guy. I remember once at Citi -- it might've been a game he was starting -- he did that third-grade trick on me, where you walk by someone and tap them on one shoulder and then keep going. He didn't say, "Made you look," but there was a fun aspect to Colon's personality. He was intriguing.
The strangest moment came in May when the New York Times reported the story that Colon used fat and stem cell surgery in some sort of miracle cure for his elbow. The legend of Colon -- maybe a little tarnished after the story -- was further embellished. It added to the great story, even if it could have dampened it. (Since nothing illegal was ever done, as far as we know, I would say it didn't.)
But, of course, the big thing (pun totally intended) was how Colon appeared. Colon looked like anything but a professional athlete. The fact that he was so good even though he was so out-of-shape is a testament to what type of athlete he was. He was also a headline writer's delight, and he will be missed by editors, I'm sure.
Colon's gone, but he left a mark on Yankees history. A big mark.