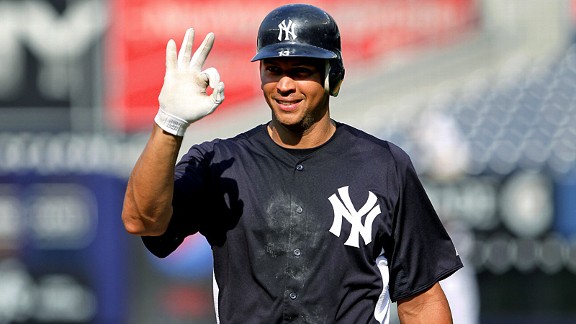 Anthony Gruppuso/US Presswire
A-Rod isn't the same player anymore. So what can Yanks fans expect from their 3B/DH this year?25 Questions, 25 Days: Day Two
Good news: Yankees hitting coach Kevin Long spent five days in Miami with Alex Rodriguez earlier this month. He proclaims the third baseman and cleanup hitter "fully healthy,'' and says, "His swing looks great.''
Bad news: He said the same thing about this time last year. And by the end of spring training, during which A-Rod knocked the stitches off the baseball, we all were repeating it. Some even went so far as to predict a fourth MVP award which would naturally lead the Yankees to another victory parade down Ol' Broadway.
But all that followed was a parade of injuries -- shoulder, knee, thumb -- that limited him to 99 games and a measly (by his standards) 16 home runs and 62 RBIs, both career lows.
A-Rod's Place In Pinstripes?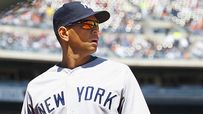 Alex Rodriguez is no stranger to controversy, but he's also one of the all-time Yankees. Where does he rank?
ESPN NY's Top 50 Yanks

VoteThis winter, A-Rod traveled to Germany for experimental Orthokine treatments on his knee and shoulder, a procedure the Yankees said they fully researched and gave their blessing to.
Still, both Long and GM Brian Cashman acknowledge that this version of A-Rod, who will turn 37 in July, is very much an unknown quantity.
"When he's healthy, he's always produced,'' said Cashman, who when pressed for a prediction on Rodriguez's final 2012 numbers, admitted, "I have no idea.''
Long, too, tempered his enthusiasm for A-Rod's upcoming season with the caveat, "If he's healthy ... ''
As in, if he's healthy "I think 30-40 home runs is realistic.''
Rodriguez, of course, has not hit more than 30 home runs since 2008, when he hit 35. He followed that with two 30-home run seasons before bottoming out at 16 last year. But his run production has remained strong -- his 125 ribbies in 2010 was his 13th consecutive 100+ RBI season -- although his slugging percentage has plummeted from a high of .645 in his last MVP season (2007) to .461 in 2011.
And according to the projections of Dan Szymborksi of ZiPs Projections, and Bill James, A-Rod won't make it to 30 this year, either. Szymborski has A-Rod playing just 108 games, with 21 HRs, 82 RBIs and a .264 BA. James is a bit more optimistic: he sees A-Rod finishing .277/29/86 in 134 games.
And even the perennially-optimistic Long acknowledges, "At some point, you're just not going to be able to do the things you used to be able to do.''
The question is, are we at that point with Alex Rodriguez, and if so, how much longer can the Yankees go with him as their cleanup hitter?
Let us know what you think. Is A-Rod on the verge of a comeback? Or is he all washed up?
Tomorrow: Will the real Derek Jeter please stand up?