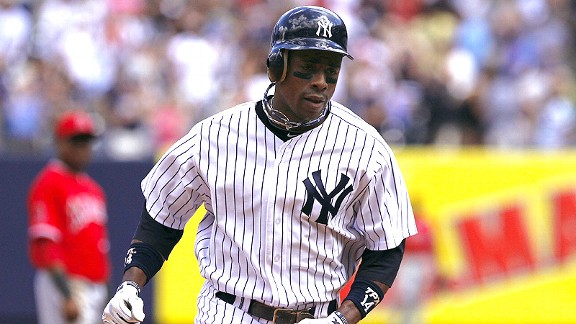 Michael L. Stein/US Presswire
Curtis Granderson learned to hit lefties and had a career year in 2011. Can he keep it up in 2012?25 Questions, 25 Days: Day Four
It was Charlie Dressen, manager of the Brooklyn Dodgers who, after watching Willie Mays make an over-the-shoulder catch in center field and then whirl and blindly throw home, nipping Billy Cox at the plate, famously said, "I'd like to see him do it again.''
Sixty years later, Yankees hitting coach Kevin Long is saying the same thing about his own center fielder, Curtis Granderson. It's not that K-Long doubts Granderson's ability to duplicate his 2011 numbers -- 41 home runs, a .262 batting average, and league highs in RBIs (119) and runs (136). It's just that having that kind of offensive force in the Yankees lineup is the kind of luxury any hitting coach would covet.
"The way he hit last year,'' Long said, "There's really only one guy better, and that's (Jose) Bautista.''
That's how good the Grandy Man was last year, a legitimate MVP candidate in his second year as a Yankee and on most days, the most dangerous bat in the Yankees lineup.
But the most remarkable thing about Granderson's 2011 is that much of the damage he did came at the expense of left-handed pitchers, who until last season seemed to permanently have his number.
Coming into 2011, Granderson was a career .215 hitter against lefties with all of 20 home runs against them in seven major-league seasons.
But last year, he hit 16 bombs off lefties alone. In fact, he was a better hitter against lefties than he was against righties, batting .272 (as opposed to .258), compiling a .597 slugging percentage (as opposed to .537) and homering once in every 12 at-bats against lefties, once in every 16 against righties.
It was a remarkable turnaround for a hitter who previously had seemed useless in nearly half his at-bats. Granderson began his resurgence the previous August after a much-publicized benching followed by a cage session in which he and Long essentially re-built his swing.
Seventeen months later, the reconstruction seems to be holding up. "He's been a really good player for like, a year-and-a-half now,'' Long said. "That swing works, it really works.''
Still, Long concedes, "I'd like to see him go back-to-back, put together two straight seasons of great numbers.''
If there was a negative to Granderson's 2011 season, it was his team-high 169 strikeouts, his highest total since he led the AL with 174 as a Detroit Tiger in 2006.
"The strikeouts don't worry me,'' Long said. "He's a swing and miss guy, but when he does hit it, he does a lot of damage.''
Dan Szymborski of ZiPs Projections predicts Granderson will tail off a bit in 2012, to 31 homers and 92 RBIs. On the bright side, he also projects a reduction in strikeouts, to 143.
Long won't make a prediction because, as he says, "It all boils down to what he does against lefties. Take that out of his 2011 numbers and what have you got?''
In other words, he'd like to see him do it again.
What about you? Do you need to see him do it again? Or do believe the 2011 version of the Grandy Man is the real deal?
Tomorrow: When will see the Killer B's?