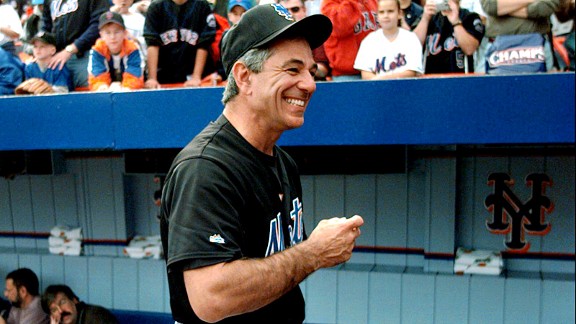 Getty Images
Does Bobby V make the Red Sox more dangerous? Or just more fun to watch?25 Questions, 25 Days: Day Nine
Valentine's Day is still officially 11 days away, but for the new manager of the Boston Red Sox, each day is Valentine's Day. Whether it is by happenstance or design -- and I lean toward the latter -- Bobby Valentine always seems to wind up in the middle of the action, much like a Yankees third baseman whose name momentarily escapes me.
The 2012 baseball season, or at least the portion of it that involves the AL East, is going to revolve, in large part, around Valentine and his attempts to rehabilitate the Red Sox, who came into the 2011 season wildly overhyped but went down in a hail of injuries, clubhouse discord, chicken wings and beer.
Now, Red Sox Nation turns its hopes to a manager who hasn't managed a major-league game in the United States in a decade, who has never taken a team to a division title, and has never, it seems, left an organization on good terms. (Although as far as I know, he departed from his spot as an ESPN "Baseball Tonight'' analyst in good standing).
In Valentine's defense, of course, are his two previous managerial stints, with the Texas Rangers and the Mets, where he was asked to take bad teams and make them good teams. To a certain extent, he succeeded in both assigmnents, and in fact his feat of bringing the wild-card Mets, with their outfield of Jay Payton, Benny Agbayani and Derek Bell all the way to the World Series, where they were beaten in five games by a Yankee team in full dynasty mode, is one of the more remarkable managerial accomplishments of recent years.
Now, for the first time in his career, Valentine is being handed a good team, a talent-rich team, and asked to make it a great team. Whether he can or not will be one of the most compelling ongoing stories of the 2012 season.
Can he do it? There's no doubt that in both Arlington and Flushing, Valentine made an immediate difference. The Rangers won 25 more games in Valentine's first full season than in the previous one, and the Mets improved by 17 games after Valentine took over from Dallas Green in 1997.
In both cases, Valentine's energetic, vocal, confrontational style coaxed much better performances out of his teams than might have been expected out of the personnel he had to work with.
The Red Sox, of course, are a different case altogether. The Bosox don't need that kind of a turnaround. They just need to get back on track, regain their discipline and focus, and win between 5 and 10 more games than they did last season.
Is Valentine the man who can get that out of them? His history seems to indicate that he is. The old saying about managers -- that they almost never win a game for you, sometimes lose a couple and mostly don't make a bit of difference -- probably does not apply to Valentine.
His in-game machinations may well make a positive difference in a handful of games over the course of a season. He is probably the smartest manager in the AL East and arguably the smartest in all of baseball. He is an agitator, a meddler, at times an overmanager. He uses more pinch-hitters and makes more in-game substitutions than anyone in the game.
He will delight in tweaking the Yankees at every opportunity -- he has already done it several times --- and will ratchet up the intensity of this already insane rivalry yet another notch or two.
But is that all it will take to right the Red Sox? Valentine's personality may be strong, but it can't make up for the loss of Jonathan Papelbon to free agency, the loss of John Lackey to Tommy John surgery, the underperformance of Carl Crawford and Kevin Youkilis, and the inevitable rough spots to be come between he and rookie GM Ben Cherington.
The presence of Valentine certainly makes the AL East race more interesting and, the Red Sox, on paper at least, better off than they were last year in the final days of Terry Francona.
But does he make them good enough for Yankees fans to lose any sleep over it? Brian Cashman, a friend of Valentine's from Connecticut, says he respects Bobby as a manager, but certainly doesn't fear him.
How about you? Does Bobby V make the Red Sox more dangerous? Or just more fun to watch? Let us know in the comments section.
Tomorrow: Brett Gardner -- leadoff hitter or caboose?