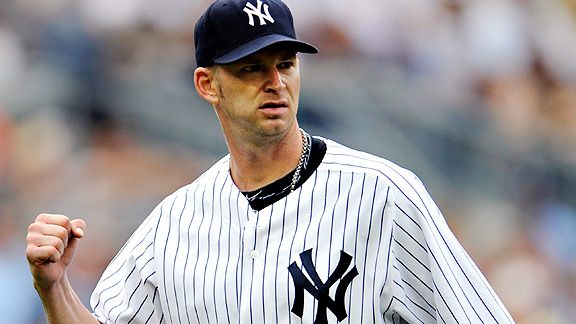 AP Photo/Bill Kostroun
In some ways, A.J. Burnett's 2011 wasn't as awful as you remember. But can he be useful in 2012?25 Questions, 25 Days: Day 13
The list of American League starting pitchers with the highest rate of strikeouts per nine innings pitched in 2011 is as follows: Brandon Morrow, Michael Pineda, Justin Verlander, Gio Gonzalez, David Price, CC Sabathia, Felix Hernandez, Jon Lester, C.J. Wilson -- and Allan James Burnett.
In addition, there are only 11 starting pitchers in the AL who induced more ground balls last year than A.J. Burnett.
Of course, a strikeout or a ground ball are two of the best results a pitcher can hope for once he lets go of the baseball, and Burnett was among the league leaders in both. That combination usually means a sub-4.00 ERA and a W-L record to match.
And if you want to get all Saber-Geeky about it, Burnett's xFIP of 3.86 -- an advanced measurement of a pitcher's effectiveness on plays not involving fielders -- was comparable to that of Matt Cain (3.78) and Jered Weaver (3.80) to name two pitchers any Yankees fan would take over Burnett in a heartbeat.
So how is it that Burnett also found himself near the top of another list -- the list of starters with the highest ERAs in the league? Only Brad Penny and Fausto Carmona had worse ERAs than Burnett's 5.15, which only goes to remind you of the Jekyll and Hyde nature of his 2011 season, and much of his 13-year major-league career.
Every single pitcher who struck out batters at the rate Burnett did in 2011 had a sub-5.00 ERA. In fact, all but two were below 3.50.
So how is it that A.J. Burnett could be so unhittable and so beatable at the same time?
Lots of reasons. For one thing, he walked too many batters, nearly four for every nine innings pitched. For another, his fastball, which averaged over 95 mph just three years ago, now rarely brushes 93. As a result, on nights Burnett couldn't locate his curveball -- and they were many -- opposing hitters hammered his fastball for a .332 batting average, a .421 OBP and a .606 SLG.
But most of all, his home run percentage was, literally, through the roof. Better than one in every six fly balls hit off Burnett last year left the yard. He was the easiest starting pitcher to take out of the ballpark in all of Major League Baseball.
Part of the reason is the park he pitches in. Nineteen of the 31 home runs Burnett allowed last year came at Yankee Stadium. (It will be interesting to see what, if any, effect Yankee Stadium has on Pineda in 2012.)
And you can make the case that Burnett pitched in some bad luck.
But it is no secret that if Burnett throws 100 pitches in game, he might well use 100 different release points. As a result, his command is erratic, his control unreliable and his psyche fragile. (Whether his emotional state is the result of his mechanical struggles or vice versa is a matter for Larry Rothschild, Doctor of Pitching Psychology, to figure out.)
What it means is that by more than one yardstick, Burnett was among the elite pitchers in the AL last year. But by the ones that matter most, he was among the worst.
The question is, can he right himself in 2012? "Yeah, absolutely,'' Rothschild said to me on a phone call earlier this week. "He's into his offseason workout program and he knows what's expected of him this year. He needs to make the transition from pitcher to thrower, but one thing about A.J. is he's always trying to get better.''
And the indications are he still has the physical tools to do it, even at 35 years old. And with two years and $33 million left on his contract, the Yankees are probably stuck with him, and likely to give him every opportunity this spring to make the rotation as the No. 5 starter.
If the Yankees have run out of patience with Burnett, they are doing a very good job of concealing it. The question is, have you?
Are you willing to give A.J. one more shot? Or is the only release point you want to see the one where the Yankees release him from his contract? You know where and how to let us know.
Tomorrow: Caveman II -- Should the Yankees bring back Johnny Damon?