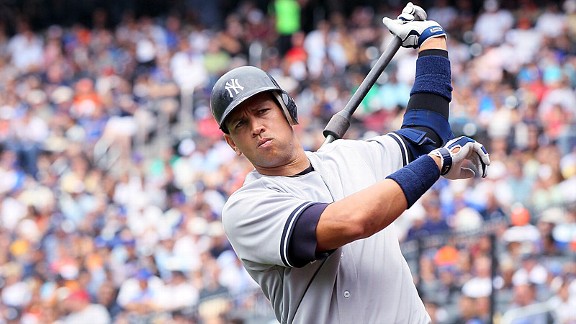 Jim McIsaac/Getty Images
Has Alex Rodriguez reached a point where he shouldn't hit fourth anymore?25 Questions, 25 Days: Day 15
Some things in baseball just seem automatic. Batting practice will be taken every day, the national anthem will be sung, and Alex Rodriguez's name will be written in the fourth slot of the lineup card. It just seems as if it has always been that way.
But nothing stays the same forever, and as we are told time and again, change is not only inevitable, but in many cases, desirable.
And moving A-Rod from the cleanup spot in the Yankees lineup is a change whose time may have come.
Batting fourth is not a birthright, but it is a source of pride to the player who does it, or, like Rodriguez, has done it for nearly his entire career. (Actually, only 3,633 of his 9,133 career at-bats have been as a cleanup hitter, but virtually all of his Yankee ABs have been there.)
But there comes a time when performance must be rewarded rather than tradition or a player's pride, or ego, if you will.
And based on performance, it may no longer be the best thing for the Yankees to retain A-Rod in the position many consider his entitlement.
Whether because of nagging injuries or his increasing age, A-Rod hasn't really hit like a cleanup hitter since 2008. The preseason buzz is that A-Rod is healthy and in great shape this offseason, but we've heard that before. The difference now is the Yankees have other guys who can step in and fill that spot more than adequately if it turns out that the A-Rod the Yankees have seen for the past three years is about all the A-Rod they're going to get. The question is, will Joe Girardi have the stomach do what it seems obvious he needs to do with his lineup this year?
In my mind, the Yankees have four viable candidates for the cleanup spot: A-Rod, Curtis Granderson, Robinson Cano and Mark Teixeira.
By the numbers, here is how it stacks up for each:
Cano: .302/28/118/.349/.533; as cleanup hitter (165 ABs): .315/7/36/.364/.521
Texieira: .248/39/111/.341/.494; as cleanup hitter (90 ABs) .211/5/20/.288/.446
Rodriguez: .276/16/62/.362/.461; as cleanup hitter (360 ABs) .269/15/58/.354/.453
Granderson, the team's No. 1 power hitter in 2011 with 41 homers and 119 RBIs, didn't get a single at-bat in the four-hole.
Cano, as the team's best hitter, is probably slated to hit third this year, displacing Teixeira.
That still leaves three power bats from which to choose. My choice would be to bat Granderson cleanup, A-Rod fifth and Teixeira sixth.
What would your lineup card say? Does A-Rod hold onto the cleanup spot through reputation and past accomplishments, or is it time to make a switch? And if so, who are you writing into that fourth line on the card?
Tomorrow: How good is Michael Pineda?