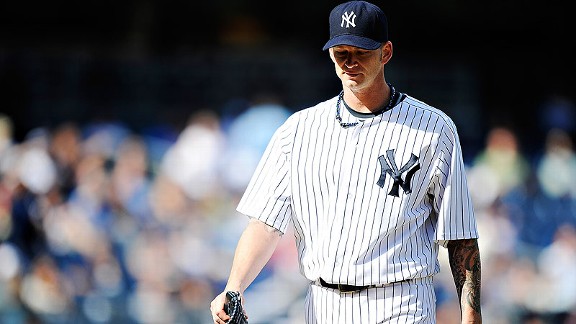 Patrick McDermott/Getty Images
Memo to Yankees: Let's get this A.J. Burnett-to-Bucs deal done. Now. Please.To: Yankees Front Office
From: Andrew Marchand
Re: A.J. Burnett Trade
cc: Clubhouse Doors
Front Office:
Pull the trigger!
The expectation is that A.J. Burnett will not be a Yankee at this time next week when pitchers and catchers are on the fields of Tampa. Still, here's some friendly advice on why it must be so.
It is not that Burnett will be a distraction. It is doubtful he will make himself a story every day, as it's just not his personality. Ultimately, he would accept making $16.5 million without a defined role, and he may even work more diligently to find his spot. At the end of the day, his presence in the clubhouse wouldn't be that much of hindrance.
In other words, he won't be a David Wells situation.
However, the trade value of a basically idle Burnett would go down with each day he is irrelevant. You guys are already going to pay Burnett the majority of the $33 million he has left over the next two seasons, but the meter will continue to dip the more time you wait. Plus, if he makes it to the end of spring training, you would have to find a spot for him in the bullpen, and Burnett, as a long man, would bring negative long-term returns. It has a "DL" situation written all over it. In essence, there is no real spot for him.
Plus, with Freddy Garcia, Phil Hughes, Adam Warren, David Phelps and D.J. Mitchell, you probably have two or three guys, maybe more, who can out-pitch Burnett right now.
Burnett could do OK in a return to the National League. Without the DH, his declining fastball might not be as exposed, away from Yankee Stadium he might not lose his concentration so easily and deliver that one fat pitch that leads to the unraveling of his nights. But sending him off to Pittsburgh is about as much of a guarantee as you can get that the trade won't come back to haunt you.
You also have to think about the clubhouse doors. They have never done anything to anybody, but Burnett chooses to beat them up. Let them live in peace.
It's time to make this trade, even if you don't get every last million or prospect you want back. It is time to move on from A.J. It is the right move for everyone involved.