That would be David Phelps, Manny Banuelos and Dellin Betances, all of whom were mentioned by Hal Steinbrenner the other day as key components in his master plan to slash the Yankees' payroll by 10 percent, to $189 million, by 2014 to avoid going over the luxury tax threshold.
All three pitched acceptably in the Yankees' 8-5 win over the Phillies on Saturday, combining for five innings of two-hit, no-run ball, but to rank them in order of effectiveness it would have to be Phelps, the least-heralded of the three, who performed the best; Betances, the 6-7 fireballer from Brooklyn who had the most difficulty, and Banuelos, the most highly-touted of all, somewhere in the middle.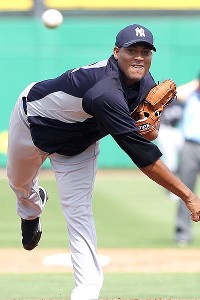 Kim Klement/US Presswire
Ivan Nova worked the first two innings Saturday before handing off to young guns David Phelps, Manny Banuelos and Dellin Betances.All three were aware of what Steinbrenner had to say; he basically threw down the gauntlet to his young pitchers, and Ivan Nova, to improve their games to the point where the Yankees could promote them to the big leagues rather than pay the kind of salaries that free agent starters will command.
And all three had heard Joe Girardi, in his introductory message to the team last week, single out pitching as one area of the team in which kids who start the season in the minors had a realistic chance to make it to the Bronx sometime this season.
"I said, 'Look, we used 28 pitchers last year and I guarantee that all 28 were not on the 40-man roster when the year started,'' Girardi said. "'So if you're thinking we're not going to call you up because you're not on the 40-man, think again. Everyone in this room has an opportunity to pitch for us this year or you wouldn't be here.' And I think it's important for them to know that.''
After Nova worked the first two innings, allowing two runs (one earned after an error by Eduardo Nunez) on a HR by Hunter Pence, the procession of kid pitchers began.
Phelps, a 25-year-old righty who went 6-6 for the AAA Scranton/Wilkes-Barre affiliate last year, showed the best command, walking no one, striking out one and allowing a single in his two innings. Banuelos fell behind to several batters, walked two and struck out none in his two innings. and Betances, who had trouble throwing the ball over the plate during his September call-up last year, had difficulty repeating his delivery with his 6-7, 240-pound body, walking the first two batters he faced and sailing one pitch clear over the heads of both his catcher, Gary Sanchez, and the home plate umpire. But he escaped trouble with a double play and a pop out and wound up pitching a scoreless inning.
"Phelps is a much different guy than what we saw last year,'' Girardi said. "Much more relaxed, much better command. Banuelos was a little around the zone, and the same thing with Betances. The one thing you can't do when you're out there is think about your mechanics. You've got think about making your pitch.''
The last two innings showcased two lefties who are battling for the final spot in the bullpen. Cesar Cabral allowed two hits in the eighth but escaped damage. Mike O'Connor had all kinds of trouble, surrendering a two-run HR to Kevin Frandsen and another run when Tyson Gillies doubled to make it close, but finally ended the inning and the game with a strikeout.
"There's opportunity here for these kids,'' Girardi said. "They just have to step up and take it.''