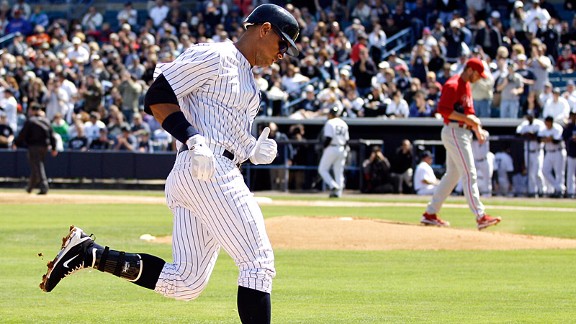 AP Photo/Matt Slocum
"Same place.'' That's what A-Rod said when asked where his HR would've landed sans 20 mph wind.It wasn't quite like coming back after hip surgery to hit the first pitch he saw out of Camden Yards back in 2009, but Alex Rodriguez staged a mini-replica of that feat Sunday at George M. Steinbrenner Field, belting a first-pitch fastball from Roy Halladay onto the roof of the pavilion far beyond the right-center field fence in the first inning of what would go on to be a 7-4 Yankees victory over the Philadelphia Phillies in their spring home opener.
It was the start of a 3-for-3, two-RBI day that had people thinking back to last spring training, when A-Rod tore up the Grapefruit League (.388, 6 HRs, 15 RBIs) but then tore up a knee, a shoulder and a thumb in the regular season and wound up playing in only 99 games.
"Look, last year I stood here and had a really good spring, felt really good and the results during the year weren't what we all wanted,'' he said. "It's a good start and hopefully the first of many more days to come.''
A-Rod's Place In Pinstripes?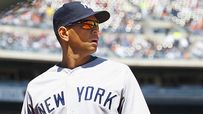 Alex Rodriguez is no stranger to controversy, but he's also one of the all-time Yankees. Where does he rank?
ESPN NY's Top 50 Yanks

VoteConsidering what happened last year, when he put up career lows in HRs (16), RBIs (62) and slugging percentage (.461), a dose of caution was in order. "He's probably not going to hit 1.000 for the year,'' Joe Girardi admitted.
But A-Rod's modesty momentarily evaporated when someone asked him where he thought the home run ball would have landed if the wind was not gusting out beyond 20 mph.
"Same place,'' he said.
Once again, Rodriguez comes into spring training with questions to answer regarding the previous regular season, and also the offseason, during which he traveled to Dusseldorf, Germany, for an unorthodox treatment that involved drawing blood from his body, separating its components and injecting it back into the afflicted areas of his knee and shoulder.
A-Rod has said he felt better after the first treatment -- he had five in each area -- and was able to work out this winter with an intensity he has not had in years. And yet, he was reluctant to declare himself fully healthy and ready to resume the kind of production he put up in his first three seasons as a Yankee.
"Give me another week and I'll tell you,'' he said. "It's hard to answer that question. We just played one game, so let me get 10, 15 games under my belt, then we'll talk.''
But A-Rod was clearly pleased with his performance in his first real game of the spring -- he singled in his only at-bat against USF on Friday -- even going so far as to describe Halladay as "the greatest pitcher in our game.''
"I'm just lucky that it was the first inning and he's not quite warmed up yet,'' Rodriguez said. "He's probably going to be mad next time I face him.''
Rodriguez also had a single off Joel Pineiro in the third and an RBI double off him in the fourth.
"I've never put any emphasis on spring training,'' he said. "What I put emphasis on is how your body feels. Spring training doesn't really mean anything.''
But when asked if he was reluctant to believe in spring training results as a precursor to regular season performance because of the recent past, he said, "No, I believe.''
The question is, do you still believe in Alex Rodriguez? Can he once again be the most dangerous bat in the Yankees' lineup? Or is he now just a supporting player whose lead role has been taken over by Robby Cano or Curtis Granderson?