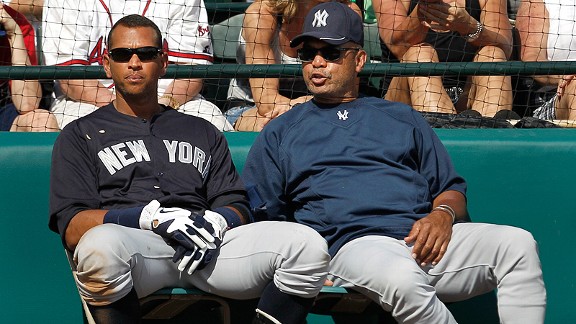 AP Photo/Paul Sancya
Despite, ahem, "one negative," Yankees legend Reggie Jackson sees a way in which Cooperstown could still be in Alex Rodriguez's future.Reggie Jackson thinks that Alex Rodriguez can still become a Hall of Famer, even if he has that "one negative."
A-Rod's Place In Pinstripes?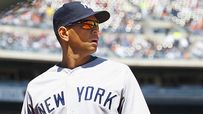 Alex Rodriguez is no stranger to controversy, but he's also one of the all-time Yankees. Where does he rank?
ESPN NY's Top 50 Yanks

Vote"I think he has a great chance to get in," Jackson told ESPN New York the other day. "He has to keep hitting. He has to keep rolling."
Jackson's point is that, despite the fact that no one caught during the Steroid Era has yet to be voted into the Hall of Fame, he believes Rodriguez can because, with testing in place now, we can go under the assumption that A-Rod is clean.
Thus, if A-Rod can keep hitting, putting up strong numbers throughout the duration of his contract, he may get in. Rodriguez's deal goes through 2017 and takes him until he is 42.
In his career, A-Rod has 629 homers and 1,893 RBIs.
UP NOW: My column on the Rex Ryanization of the Rivalry, featuring Bobby Valentine as Rex.
ON DECK: The clubhouse opens at 8:40 a.m. in Tampa and then we hit the road for Dunedin to watch the Yanks and Jays. Last year, I got stuck in the elevator there, which inspired my ex-teammate, King from The Post, to say, "Leave him in there." I'll be taking the stairs this year.
I'll be on the blog all day so keep coming back. Thanks for reading.
IN THE HOLE: Live from Dunedin, I will have a live chat at 1:30 p.m. Before that we will play O/U with Ivan Nova's win total. That will be posted at 10 a.m.
QUESTION OF THE DAY: If you had a vote, would you put Alex Rodriguez in the Hall of Fame?