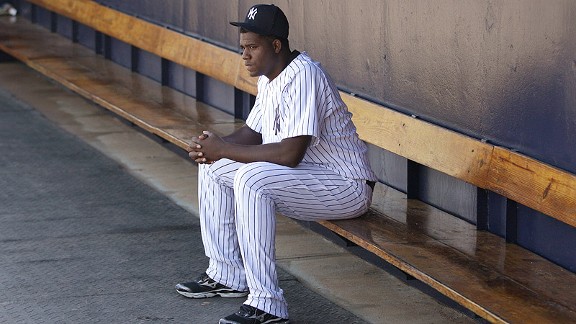 AP Photo/Matt Slocum
Michael Pineda, just 23, is making the tough transition from Seattle to the Big Apple -- and he admits the spotlight can be daunting at times.Imagine you were in a foreign country doing your job and you had only been speaking the language of that land for four years. And, all of a sudden, after everything you did -- good or bad -- the culture of your job there required you to answer questions from a dozen people, even for mundane things.
You might be a little scared, no? Michael Pineda is a bit scared because he has quickly learned that the requirements of being a Yankee are much different than being a Mariner. The biggest difference is the media.
"Sometimes I'm a little scared because I don't want to make a mistake," Pineda said. "I try to speak English, but my English is not very good."
I told him, I thought it was pretty good.
"You think?" he responded.
It actually is a credit to him that he speaks as well as he does, because a major negative of many American baseball writers, myself included, is our inability to speak Spanish. Pineda is dealing with that adjustment as he tries to make the Yankees' starting staff.
Today in Viera, Pineda will try to establish his spot in the rotation and to take the possibly of starting in the minors out of the Yankees' minds. Pineda came to camp 10 pounds overweight and his fastball has been underwhelming. He has made just two starts, so it may end up meaning nothing.
As far as handling the demands, pitching coach Larry Rothschild doesn't think that will make or break Pineda.
"I think he will handle it fine," Rothschild said. "If he is successful, that explains itself. If he is not, I don't think it is going to be because he is under the glass of New York."
I tend to agree with Rothschild. But it is a big focus of Pineda's, at the moment. The 23-year-old is the one who brought up being scared and, I think, it is understandable.
The Yankees are doing the right thing by having him experience New York full-throttle. We painted the scenario above about the intimidation of the situation, but a player's relationship with the media -- even the New York media -- during spring training is mostly friendly -- because there is usually less tension with no real games. It is no different with Pineda.
Pineda, though, can only draw on his own experience -- or inexperience.
Ivan Nova has served as something as big brother for Pineda, his fellow Dominican, trying to teach him how to adapt. It is a hard thing to to do.
In the end, everything will probably become easier if Pineda starts pitching better, throwing harder, beginning today.
ON DECK: We should have a full Freddy Garcia update today. The clubhouse opens at 8:40 a.m. and then we will have to high-tail it two-and-a-half hours to Viera. We will be there to chronicle Pineda's start.
QUESTION OF THE DAY: If Pineda had a five-plus ERA in the second half of last year with the Yankees, do you think he would be a shoo-in to be in the starting rotation?