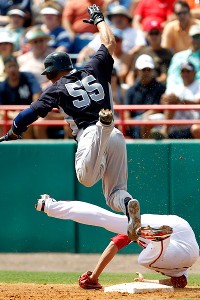 AP Photo/Paul Sancya
Chien-Ming Wang and Russell Martin meet at first base.Update: The Nationals have announced Wang has a left hamstring strain.
Former Yankees pitcher Chien-Ming Wang was forced to leave Thursday's game between the Nationals and Yankees when he lost his footing on his way to try to tag first base.
On the play in the third inning, Wang fielded Russell Martin's slow grounder between the mound and first. After gloving it, Wang decided to take it himself, but stepped awkwardly as he went from the grass to the dirt.
He then slipped at first and undercut Martin.
Martin was called out.
Wang had looked good in his first two innings. Although he gave up a couple of hits, his hard slider looked pretty good.