Michael Pineda was positively giddy about his changeup.
He threw about 10 of them among his 65 pitches Thursday and it was like he discovered a new weapon. Joe Girardi was equally thrilled about the change.
"If his fastball gets to where it is supposed to be, then [you've got something,]" Girardi said after Pineda's 3 2/3 innings of two-run ball in the Yankees' 8-5 win over the Nationals.
On Thursday, Pineda's fastball was at 90-92. By comparison, a year ago at this time with Seattle he was hitting 95-98 on the gun. There is a level of concern among the Yankees about when they will see Pineda's true heat.
But, if it comes, and it combines with the changeup he showed Thursday, the Yankees could have somebody sensational in exchange for Jesus Montero.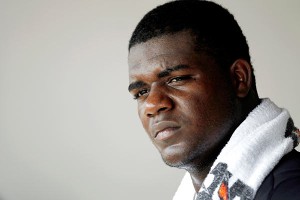 AP Photo/Paul Sancya
How good can Michael Pineda be? The Yankees see a No. 1 or No. 2 starter down the road.At the moment, the Bombers have a guy who could be headed to the minor leagues to start the season. If that occurs, it may be the best thing that happens to Pineda.
As Yankees GM Brian Cashman said earlier in the spring, if Pineda adds a change, he can someday become a No. 1 or No. 2 starter. He has a nasty slider and is supposed to have a 95 mph fastball. If he really develops the change, then by October he may be the pitcher Yankees fans are dreaming about.
Of course, he needs to locate his fastball, too.
"He was up to 92 today," Girardi said. "I know that is going to be talked a lot about. It is his third start, we still have time to get his fastball where we need it to be."
But if Pineda can find his velocity and combine it with his slider and newfound change, then, as Girardi astutely said, this could be a good experience. He is understanding what it takes to be a Yankee. Part of it is dealing with the media, which has been a focus of his and has made him scared to say the wrong thing at the wrong time.
"It is not such a bad idea for him to learn what he is going to live with, being in New York," Girardi said. "He is getting a little baptism."
Pineda's slider, which he called his "baby," already looks good. He threw 10 changeups that could make him otherworldly. He is one ingredient away from being the main dish the Yankees crave.
About the fastball, Pineda says his arm feels fine and he is not focused on his velocity. He also isn't thinking about going to the minors to start the season. If he is at Triple-A or the majors, he said he is going to be "ready." If it is at the major league level, he will need to pack his 95 mph fastball in his knapsack.
"I hope it continues to improve, but that is something we are going to have to evaluate," Girardi said.
Pineda showed what he might be on Thursday.
Now, he just has to add what he was the first half of last season.