What it means: Andy Pettitte, one of the most beloved Yankees in recent times is coming back to pitch for the Bombers because he had the ache to keep playing.
Pettitte had denied that he had a desire to return throughout last year. Just the other day, I saw him at Disney, where he threw BP for the Yankees prior to their game against the Braves last week. He acted very content in retirement as he signed autographs for fans.
Pettitte's Place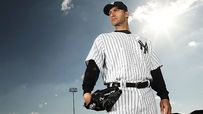 Andy Pettitte's back in pinstripes. Where does he rank among all-time Yanks?
50 Greatest Yankees

Rank 'EmImpact on the team: Pettitte signed a $2.5 million minor league deal. But when Pettitte is ready, he isn't pitching in the minors, of course.
You know who could be? Well, the Yankees already have six starters for five spots. If there are no injuries, it seems like there is a good chance Michael Pineda could be in the minors getting stretched out.
The same could be the case for Phil Hughes and even Ivan Nova.
All will have to earn their spots in the rotation.
When Pettitte is ready, which probably won't be at the beginning of the season, it is going to be a survival of the fittest situation.
What should be expected: Pettitte, who will turn 40 in June, last pitched in 2010. That year, he went 11-3 with a 3.28 ERA. He has now been out of the game for a year. When he has spoken about his retirement, he has said that he has barely picked up a baseball, so there is no telling what sort of shape he is in.
Question: What do you think?