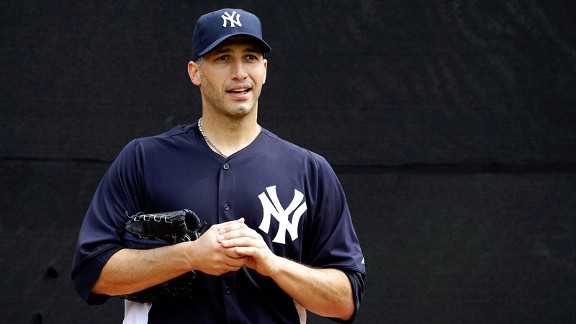 AP Photo/Kathy Willens
Fans got their first chance to see Andy Pettitte pitch since 2010 on Friday morning. A few dozen gathered outside the fences surrounding Field 2, just adjacent to Steinbrenner Field, to watch Pettitte throw live batting practice for the first time since coming out of retirement.
Pettitte faced six batters, throwing 26 pitches in a session that lasted about 15 minutes, and was happy with the results. "I felt good," Pettitte said. "I missed a few spots, but other than that everything is right where it wants to be. I feel like I'm throwing the ball downhill good, keeping everything down, which is obviously important for me."
Pitching coach Larry Rothschild watched the proceedings, from a stool behind the mound. "The biggest thing for me is Larry just said everything looked awesome," Pettitte said. "He said my slot's good on all my pitches, which is important, 'cause I want them all coming out of the same spot. So that's good."
"I felt like I could have probably thrown 10 or 15 more, but Larry was just like, 'Let's just shut it down, let's just take it slow,'" Pettitte added.
The 39-year-old lefty said the biggest adjustment he needs to make is getting used to seeing the ball come off the bat, after 18 months away from the game. He asked for a screen to be put up in front of him for the BP session, because his reaction time isn't where it needs to be yet.
Next up for Pettitte is likely a short throwing session on the side on Sunday, which would be part of Pettitte's normal routine, followed by another BP session sometime next week.
There's a chance Pettitte will pitch in a game before the Yankees wrap up their exhibition schedule on April 3, and the target date for his return to the majors is approximately May 1.
"I'm pleasantly surprised," Pettitte said about his outing on Friday. "I don't wanna get overexcited, 'cause I haven't done anything yet, you know what I'm saying? But I expect to be back where I was, or I wouldn't have come back. So I'll be disappointed if I don't, and I feel like I'm getting there."