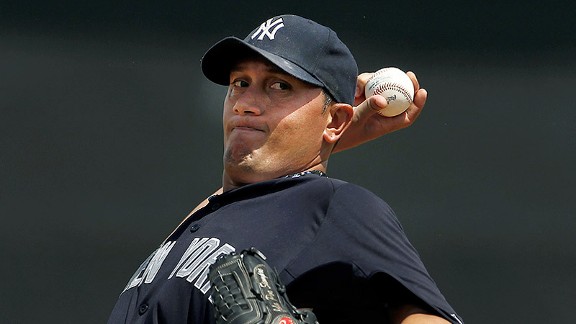 AP Photo/Paul Sancya
Freddy Garcia showed that he's healthy again on Saturday, and a strong candidate for the Yankees' starting rotation.
The 35-year-old right-hander, making his first appearance since suffering a bruised throwing hand on March 14, pitched 4 1/3 strong innings in the Yankees' 4-2 10-inning win over the Detroit Tigers in Lakeland, Fla.
Garcia gave up just one hit -- ironically on a comebacker that hit him in the leg. That's how he suffered the hand injury 10 days ago. But Garcia wasn't hurt this time around, and ended up throwing 63 pitches before being lifted by manager Joe Girardi because he had reached his pitch allotment for the day.
"Freddy was great today," Girardi said. "I mean, everything. Slow curveball he used to get ahead in the counts at times, located his fastball, split was good, banked those sliders to the left. He had it all."
Garcia had four strikeouts, and two walks. "I threw every pitch today, and I feel great," Garcia said.
When Garcia re-signed with the Yankees back in December, his spot in Girardi's five-man rotation looked much more secure. But the Yankees have brought in three additional starters since then -- Michael Pineda (via trade), Hiroki Kuroda (via free agency) and Andy Pettitte (via coming out of retirement).
Now his role is very much in question, with six guys competing for five spots to open the season, and Pettitte likely pushing another guy out in May.
But Garcia said Saturday that he is not upset about the situation. "We're in competition," Garcia said. "I like that. Keeps my focus straight, and [me] concentrating better."
Girardi admitted Saturday that he is still going back and forth on who will be the odd man out, even saying that he might not make a final decision until just a couple days before Opening Day on April 6.
"It's gonna be a tough decision -- I've kinda resigned myself to that fact at this point, 'cause the guys are throwing the ball well," Girardi said. "It's just the decision we're gonna have to make, live by. Doesn't mean it's a final decision and it can't change, but we have to go with what we feel is right."
Garcia is now 1-1 with a 2.92 ERA in four starts this spring. And after the way he pitched today, it will be awfully tough to leave him out.