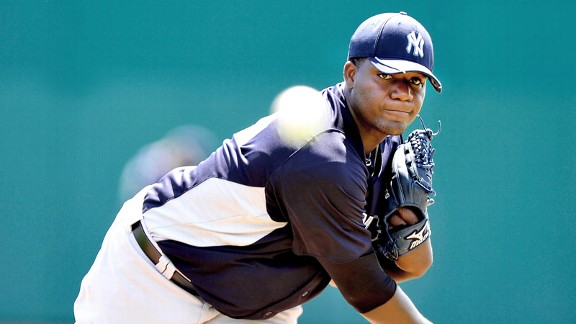 Brad Barr/US Presswire
So this is what it has come down to for Michael Pineda: He has at least one, and maybe two starts left this spring and he needs to pitch well in both to insure himself a spot in the Yankees' starting rotation.
That is quite a comedown from the fanfare with which he arrived in Yankeeland on January 13 in the stunning deal for Jesus Montero, the most highly-touted hitting prospect in the Yankee organization.
No one is saying, with this start, Pineda is in danger of not landing a spot, or worse, starting the season in AAA -- a distinct possibility now that Girardi has said the "loser'' of the competition for the No. 5 starter's job is not guaranteed a seat in the bullpen -- but no one is even trying to deny anymore that Pineda's curiously low V-lo is a concern.
"If you can average 95, that can help a guy definitely,'' Joe Girardi had said Thursday night when asked about Pineda's surprisingly low gun readings. "But you can also win at 91, 92, 93. But your location had better be better.''
Pineda hit 94 a couple of times in his last outing but for the most part has lived in the 90-91 mph range, a good neighborhood for, say, Freddy Garcia, a pitcher used to getting outs on his off-speed stuff, but alien turf for Pineda, whose fastball averaged 95 mph last year when he was a Seattle Mariner. By some numbers, Pineda has had a decent spring -- he is 1-0 with a 3.31 ERA and 16 Ks in 16-1/3 innings pitched -- but opponents have hit a healthy .280 against him and the comparative lack of zip on his fastball has surprised some in the Yankees organization.
Girardi would not specifically say that Pineda needs to prove something today, but his decree that the No. 6 starter might find himself either in the minor leagues or, in the case of Garcia, maybe a different uniform, puts a whole new light on his start tonight against the Phillies. (Pineda's next turn would come next Wednesday in the Yankees' final spring training game against the Mets, but Girardi has yet to name a starter for that game).
"I think these starts at the end are a lot more important than the ones at the beginning for all these guys, I do,'' Girardi said. "I want to see how he's doing. I've looked at his starts and they've been pretty decent. We'll sit around a room and try to hash it out the best we can.''
Girardi said in making his decision, each pitcher's track record in the major leagues would be weighed in addition to his performance this spring, and that Pineda's comparatively-thin MLB resume -- 9-10 record, 3.74 ERA and 171 IP in his rookie season -- would not work against him when it comes time to make the call.
''I've watched plenty of his tapes to see what he's capable of doing,'' said Girardi, who also saw Pineda in person when he beat the Yankees last June in Seattle. "He's added a pitch really since last year for me. That's a difference.''
Girardi was referring to Pineda's changeup, a pitch the Yankees have emphasized for him and had him work on constantly since he reported to Tampa in early February. But with the first two spots already spoken for by CC Sabathia and Hiroki Kuroda, Phil Hughes and Freddy Garcia pitching well this spring, Ivan Nova showing signs of coming around and Andy Pettitte waiting in the wings, it could be that Pineda has to pitch lights out in these final days of camp to avoid being left behind when the Yankees head north for the regular season.
The question: Where would you start Pineda this season? In the rotation? Or in AAA? And if it means losing Freddy Garcia to keep Pineda on the roster, does that change your decision?
Up now: Andrew Marchand has the disturbing story of an extortion attempt on former Yankees pitcher Carl Pavano and the intriguing story of how much the Yankees are worth now that Magic Johnson, Stan Kasten & Co. have ponied up more than $2 billion for the L.A. Dodgers.
I've got a blog on last night's game with the Orioles, as well as Girardi's ominous declaration that the loser of the Drive to be No. 5 is not assured a spot with the ballclub.
On-deck circle: Today is what has become an annual rite of spring training -- the day the Yankee beat writers and members of the coaching staff, including Girardi, disappear into the woods for a friendly game of paintball. As a paintball newbie, I fully expect to be riddled with bullets.
After that, the clubhouse will open at 2:25, followed by tonight's sixth -- and final -- preseason game against the Phillies, against whom the Yankees have already won four of five. The Phillies are listing RHP Michael Stutes as their starter, first pitch at 7:05 p.m. (YES/WCBS-AM).