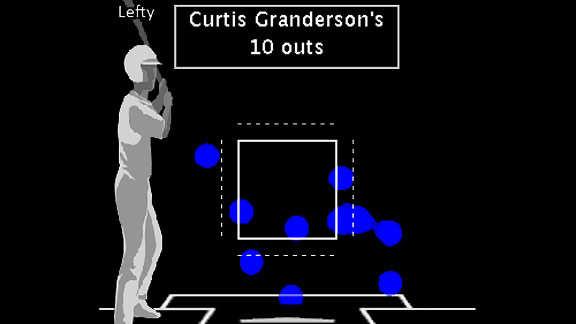 Pitch locations where Curtis Granderson made outs against the Rays
Click here to create your own Granderson heat maps
Ivan Nova Matchups to Watch
Orioles rightfielder Nick Markakis is off to a nice start, with five hits, including two home runs, in nine at-bats. He's 4-for-9 with four walks in his career against Nova, about whom Yankees fans seem a little skittish, given his 8.06 spring ERA.
Markakis also has decent numbers against Yankees closer Mariano Rivera, with six hit in 17 at-bats against him. It's a streaky 6-for-17 though, one that included a stretch of four straight hits, and his current stretch of hits in his last two at-bats against the Yankees closer.
Tale of the Tape - Through 3 Games
Nova had an 8.06 ERA in 22 1/3 spring-training innings.
Brian Matusz Matchups to Watch
The question is: Which Matusz will the Yankees see?
Will it be the one who allowed nine runs in 31 2/3 innings over five starts against the Yankees in 2009 and 2010, or the one who got clubbed for 11 runs and four home runs in 6 2/3 innings in two starts against the Yankees last season.
The Orioles are hoping for a return to the former version, who had a 22-to-3 strikeout-to-walk rate and allowed no home runs in 24 2/3 spring training innings.
Three Yankees enter with career batting averages of .400 or better against Matusz –- Derek Jeter and Robinson Cano are each 8-for-19 against him (.421). Mark Teixeira is 6-for-15 against him (.400).
Curtis Granderson
The Rays did a very good job against Granderson, both with their pitching strategy and their defensive shifting.
Last season, Granderson hit at a rate of nearly two balls in the air (flies and line drives) for every ball he hit on the ground.
He did so against a pitchers who threw two-thirds of their pitches over the middle-third of the plate height wise and above.
But Tampa Bay's pitchers threw 27 of 51 pitches to Granderson in the lower-third of the strike zone or below and thrived. That approach induced five ground balls, two fly balls and only one line drive.
Granderson was 0-for-5 when hitting the ball on the ground in the series. He also struck out four times.
It will be interesting to see if the Orioles pitchers and defenders take a similar approach.
Potential domination
Since 1998, the Yankees are 160-79 against the Orioles, and have not lost a full-season series to them in any year. That.669 winning percentage is the Yankees third-best against any AL opponent in that span. They have a .722 winning percentage against the Royals and a .670 against the Twins.
How's this for symmetry?
The Yankees have won the season series, 13-5, and won the series in Baltimore, 6-3, in each of the last three seasons.
Happy birthday David Robertson
Robertson turns 27 today.
Robertson celebrated his 26th birthday with a relief win last season against the Red Sox.
Trivia buffs (the kind who read Yankeemetrics) might know that the last Yankees pitcher to win on his birthday in consecutive years was Ron Guidry, who did so on his 30th and 31st birthdays in 1980 and 1981.
Endgame
File this one away if the Orioles have a late-game lead. Jeter is 2-for-14 with nine ground outs against Baltimore's closer, Jim Johnson.
Johnson has pitched well against the Yankees the last two seasons. He's shut down their left-handed hitters, holding them to nine hits -- all singles -- in 42 at-bats.
Stat of the Day
Worst Starts in Yankees History
Is 0-3 a big deal?
The Yankees had seven regular-season losing streaks of at least three games in 2009. They won the World Series that season. They also had seven such streaks in 2010 and six in 2011, and made the postseason each time.
Elias tells us that since 1995, nine teams have made the postseason after an 0-3 starts.
Elias also notes that four teams have gone on to win the World Series after an 0-3 start -- the 1911 Athletics, 1914 Braves, 1973 Athletics, and 1998 Yankees.