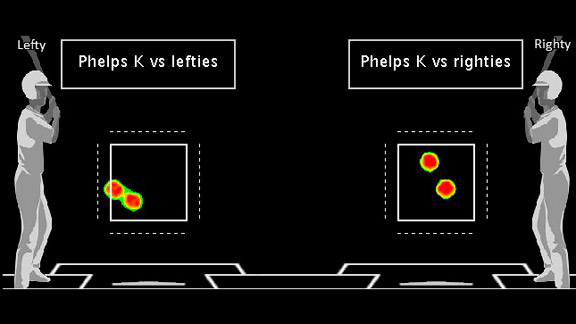 David Phelps struck out four hitters in a row in Tuesday's win
Click here to create your own Phelps heat maps
One of the most notable things to come out of this game was that the Yankees may have found themselves a mini-version of David Robertson in reliever David Phelps.
Phelps doesn't quite ratchet his fastball up the radar gun like Robertson does and his style is a little different, but at least on Tuesday his strikeout success was similar. Phelps topped out at about 92 miles-per-hour Tuesday night. But he had nasty movement and effective offspeed pitches.
#41 SP
New York Yankees
2012 STATS
In his 2 1/3 inning hitless stretch, the highlight was striking out four in a row – Nick Johnson, Mark Reynolds, Chris Davis and Robert Andino - all staring at fastballs that had nasty tailing action. As you can see in the heat map atop this article, he was able to slip fastballs to Johnson and Davis just inside the strike zone.
Phelps threw 21 of his 31 pitches for strikes and threw first-pitch strikes to six of the seven hitters he faced. He only fell behind one hitter-- Andino, whom he recovered to strike out swinging on a 3-2 fastball.
Phelps work shifted the momentum of the game. The Orioles seemed caught off guard by his approaching, taking 24 of 31 pitches. But more often than not, they took strikes. The results were similar for the pitchers who followed, particularly Cory Wade, who matched Phelps 2 1/3 innings and four whiffs, though he did allow one hit.
Phelps has already surpassed Robertson in one respect. Robertson has never thrown more than two hitless innings in a game. Phelps did it in his second career appearance.
Stats of the Game
Derek Jeter set the Yankees record for career leadoff home runs with his 25th, this one against Orioles starter Wei-Yin Chen. Jeter surpassed former Yankee Rickey Henderson for the all-time franchise lead.
A more ignominious mark was set by Freddy Garcia, who set the Yankees record and tied the AL record for wild pitches in a game with five.