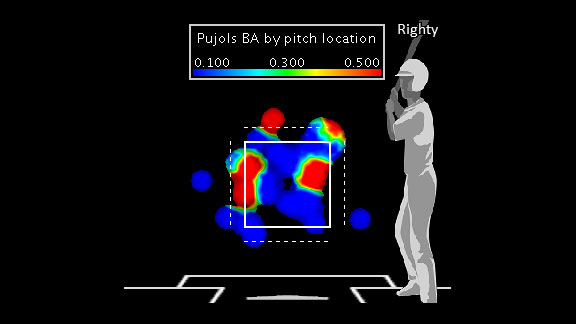 Albert Pujols has made a lot of outs on hittable pitches so far through 2012.
Click here to create your own Pujols heat maps
Ervin Santana Matchups to Watch
Including postseason play, Yankees currently on the roster have tagged Santana for 20 home runs in 317 at-bats, led by Derek Jeter and Robinson Cano with four apiece.
Again, including the playoffs, Jeter is a .442 hitter against Santana. The only active pitcher against whom he has at least 25 at-bats with a higher batting average is his teammate, CC Sabathia, against whom he's hitting .448. Coincidentally, he's also hitting .442 against another Santana- Johan.
If Joe Girardi wants to manage by the numbers, he may consider going with Eric Chavez, who is 11-for-31 against Santana, though without a home run.
Strugglers of note include Mark Teixeira, who is 0-for-his-last 13 against Santana, including a playoff at-bat.
Santana is 5-5 against the Yankees with a 5.55 career ERA in regular-season play, but has lost four straight decisions against them.
Hiroki Kuroda Matchups to Watch
Kuroda is familiar with the Angels from interleague play and familiar with Albert Pujols from their time in the National League. Pujols is 3-for-15 against Kuroda.
Kuroda's biggest bugaboo in his first start was left-handed hitters. The lefties on the Rays were 7-for-14 against him, with a home run and three doubles.
Pujols in the Bronx
This will be the first Pujols sighting in Yankee Stadium since 2003, when Pujols played three games here and went 3-for-10 in interleague play.
For more on the Pujols/Yankees matchup, check the late Thursday/early Friday morning' edition of the Stats & Info blog for a piece from Katie Sharp.
Second to None
Howie Kendrick vs Yankees
Regular Season
Angels second baseman Howie Kendrick used to be a Yankees killer, but that's no longer the case. He's just 8-for-his-last 56 against them. The chart on the right shows the difference in Kendrick's regular-season work against the Yankees in the early part of his career compared to that.
Meanwhile, the Angels have struggled to get Yankees second baseman Robinson Cano out in the same span. He's hitting .379 against the Angels over the last two seasons with eight home runs and 17 RBI in 16 games.
The heat map above shows Cano's success, with that knee-high red blotch representing an area of nine hits and only four outs.
Scioscia vs Girardi
Mike Scioscia has a 58-50 regular-season record against the Yankees as Angels manager since taking over the team in 2000. He's 20-17 since 2008 against Yankees manager Joe Girardi, and 2-4 against him in the postseason.
Scioscia had the upper hand on Girardi when the two were players. They played 15 games as opposing starting backstops from 1989 to 1992. Scioscia won 10 of them.
Stat of the Day
The Yankees have won 13 of their last 14 home openers dating back to 1998.