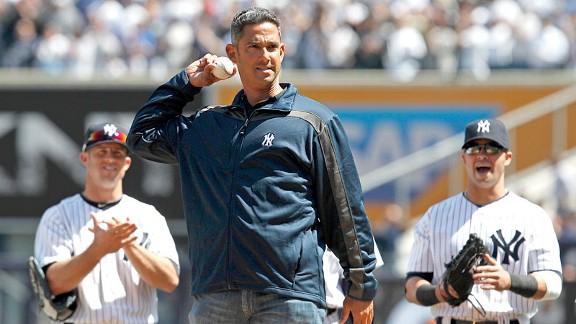 AP Photo/Kathy Willens
Jorge Posada threw out the first pitch Friday in the Bronx.Jorge Posada is used to catching pitches behind the plate.
Posada's Career In Pinstripes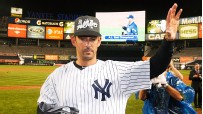 ESPN New York looks back at Jorge Posada's run in the Bronx. Gallery

On Friday, though, Posada threw one from the mound -- to his father, Jorge Sr.
The recently retired Yankees catcher threw out the ceremonial first pitch prior to his former team's home opener at Yankee Stadium.
Posada's offering was a bit high, but he still received a ton of applause from the appreciative sellout crowd.
Posada's former teammates stood behind the mound, and he hugged each and every one of them before walking off the field. The scoreboard read "Thank You Jorge."
"It's gonna be great. I hope he throws a strike," Alex Rodriguez said before the game. "It's gonna be weird, you know?"
"I can't wait to see that," added Robinson Cano.
Posada, 40, played 16 seasons for the Yankees from 1996-2011. He was a five-time All-Star and five-time World Series champion.