The first inning highlighted the problem.
Two men on, no outs, and a chance for the Yankees to score some early runs against the Angels on Saturday. Instead, the Yankees failed to get a hit and didn't score, an outcome that has happened quite often to start the season.
The Yankees went 1-for-11 with runners in scoring position in Saturday's 7-1 loss to the Angels, continuing their theme of not producing in those spots. With that poor showing, the team saw its season average fall to .200 in such situations and it now ranks among the bottom third of teams in the team average with runners in scoring position.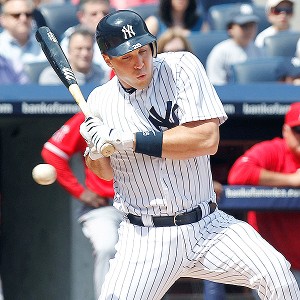 Tim Farrell/The Star-Ledger/US Presswire
Mark Teixeira batted 1-for-4 on Saturday and is now hitting .188 for the season.
"We're trying too hard, I think," outfielder Andruw Jones said. "I think we got to be a little more selective and patient when situations like that come up. If it's you or somebody else, we have to wait for the right pitch and try to get solid contact and try to get those runs in."
While the Yankees have tallied a healthy 35 runs in their eight games, when runners have advanced to second, there has not been an abundance of big hits.
The team had its chances early on Saturday against C.J. Wilson as Derek Jeter and Nick Swisher singled to start the game. In a sign of things to come, Robinson Cano struck out, Alex Rodriguez hit into a fielder's choice and Mark Teixeira grounded out to end the frame.
The Angels promptly took the lead in the second inning and by the time the Yankees registered another hit, they were already trailing 6-0. The team's only hit with runners in scoring position came from Cano when he drove in his first run of the year to slice the lead to 7-1 in the fifth.
"We had a couple chances to score some runs and we just didn't produce when we needed to," Jones said. "That's how it goes."
The Yankees hitters credited Wilson for his outing, as he beat the Bronx Bombers for the first time in his career. Wilson worked around base runners and was able to keep the Yankees hitters off balance and swing at outside pitches. He yielded six hits and one run in six innings.
"He was making his pitches," Cano said. "We were swinging at whatever he wanted. That's why he was good against us today."
He added: "He pitched good today. You have to give him credit."
The middle of the Yankees' lineup, featuring Cano, Rodriguez and Teixeira, has struggled to start the season, with each hitter batting below .230. Saturday, the trio went 2-for-12. Rodriguez and Cano have been swapped in the order in different games, but Cano said that has not played a role in the inconsistency in the middle of the order.
Manager Joe Girardi is not really concerned about the slow starts for his big bats.
"At times they've went out of the zone, at times they've hit balls hard foul, at times they've run into bad luck, so I think it's been a little bit of everything," Girardi said. "I don't make too much of it. This is a long season. Guys might have 32 at-bats and they're going to end up with 600, so you can't make too much out of 32 at-bats."