Phil Hughes has been a starter and a reliever. He has been injured and misused. He has been on an innings limit. His velocity has been questioned.
Now, his pitch count has been put under a microscope. And the "Killer P's" -- Andy Pettitte and Michael Pineda -- are lurking, waiting to take his spot in the Yankees' rotation.
"I'm used to it, unfortunately. That's how it's been," Hughes said after getting shelled by the Angels in a 7-1 loss Saturday afternoon and falling to 0-2 on the season. "I just have to work hard and get things right. I felt like my stuff was good; I just need to keep working."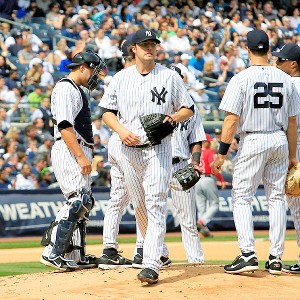 Tim Farrell/US Presswire
Phil Hughes grimaced as he exited the game in the fourth inning.
On Saturday afternoon, Hughes' stuff was good. His fastball velocity was 92-94 mph. His curveball had nice bite. He even got a strikeout with his changeup despite not being able to find it for much of the outing. But for the second straight start to kick off the 2012 campaign, Hughes failed to be efficient and put hitters away.
In the third inning, Albert Pujols whacked an 0-2 high fastball from Hughes into center for an RBI double. An inning later, Howie Kendrick smoked a 1-2 cutter that stayed out over the plate into the left-field stands for a three-run home run, ending Hughes' afternoon.
In all, Hughes -- who was charged with six earned runs on eight hits and gave up a pair of homers -- needed 84 pitches to get 10 outs. On the season, he has needed 199 pitches to get 24 outs, allowing eight runs.
To put Hughes' troubles into context, Roy Halladay has thrown 201 pitches and gotten 45 outs, allowing one run. Matt Cain has thrown 203 pitches and gotten 45 outs. Justin Verlander has thrown 209 pitches and gotten 49 outs.
And according to ESPN Stats & Information, opposing hitters are batting .417 (5-for-12) against Hughes when he gets ahead in the count 0-2. That's a .462 on-base percentage and a .667 slugging percentage. Entering Saturday, American League pitchers were allowing a .169 batting average, .198 on-base percentage and .242 slugging percentage after getting ahead 0-2.
"When he gets ahead, he's missing spots or they're fouling balls off," manager Joe Girardi said. "Consistency and the quality of pitches that he's throwing is what will bring his pitch count down."
Girardi didn't seem as concerned as everyone else. And he wasn't about to speculate on what the future holds for Hughes.
"It's still early in the season," Girardi said. "His arm strength is there. He's just gotta make consistent pitches."
Trouble is, he hasn't. And it isn't just this season, either. Since getting off to a 10-1 start in 2010, Hughes is 13-14 with a 5.55 ERA and has allowed 109 earned runs in 176 2/3 innings (credit to YES Network for bringing up this stat).
"I don't think you win 18 games by accident," Girardi said, referring to Hughes' 18-8 record in 2010. "But obviously the questions are gonna be asked because of what he went through last season [with injuries]. To me, it's just making better pitches, and we need him to do that."
"It's tough," Hughes said. "I felt I had good stuff throughout [spring training]."
But that hasn't carried over.
Pettitte is going to throw 45-50 pitches for Class A Tampa on Sunday. Girardi had no update on Pineda.
There are no guarantees either will be as effective as they once were, but Pettitte didn't sign with the Yankees to come out of the bullpen, and GM Brian Cashman didn't give up highly touted prospect Jesus Montero to see Pineda pitch in Triple-A.
Maybe it is only two starts, but Hughes has to rediscover his 2010 first-half form.
Otherwise, he could find himself out of the rotation -- sooner or later.
"The only thing a pitcher can do is worry about his next start, learn from his last start and go from there," Girardi said.
What do you think? Can Hughes turn it around? Or should he be bumped from the rotation? Maybe it's too early to tell. Be heard.