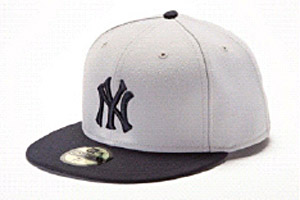 New Era
To celebrate the 100th anniversary of Fenway Park, the Yankees will wear uniforms from 1912 on Friday. Pictured here is the hat the Yankees will don.
The Yankees rarely wear alternate jerseys or hats, with a few exceptions made for patches and the 9/11 commemorative hats.
The Yankees have never changed their uniform look, but they did once consider it, as ESPN uniform guru Paul Lukas detailed in this fascinating article.
Although most fans aren't aware of it, the Bronx Bombers nearly gave their road uni a major overhaul in the 1970s. Former Yankees PR director Marty Appel spilled the beans on that one in his 2001 book, "Now Pitching for the Yankees," which included the following passage:

"In 1974 I walked into [then-general manager] Gabe Paul's office to find samples of new Yankee road uniforms draped across his sofa. They were the opposite of the home pinstripes -- they were navy blue with white pinstripes. The NY logo was in white. Gabe liked them. I nearly fainted. ... I think my dramatic disdain helped save the day and saved the Yankees from wearing those awful pajamas on the field."