Freddy Garcia usually escapes when there is two outs and trouble. At this point in his career, he gets by because he is a starter that can close out an inning.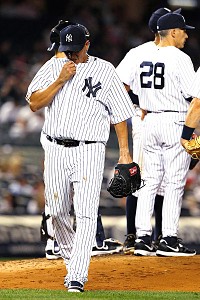 William Perlman/The Star-Ledger/US Presswire
On Monday, Garcia couldn't finish off the Twins with two outs.
"That was the difference," Joe Girardi said after the Yankees' 7-3 loss to the Twins on Monday.
In the first, he allowed a Joe Mauer two-out double and then three straight singles to put the Yankees in a two-run hole. The Yankees' offense gave him the lead back in the bottom half of the inning but Garcia couldn't hold it.
In the fifth, again with two outs, Garcia allowed an RBI single to Jamey Carroll and an RBI double to Mauer.
"I'm really disappointed," Garcia said.
Justin Morneau tacked on another run in the sixth with a leadoff homer.
For Garcia, he is now squarely at the back of the rotation line with Phil Hughes. Both have not pitched well in their two starts. With the Andy Pettitte express fast approaching, Garcia and Hughes are fighting to stay in the rotation.
While it is not a possibility yet, David Phelps' emergence could pose another threat. Plus, Michael Pineda came through his bullpen fine on Monday and will throw another in the coming days. Pineda could be throwing in a minor league game by the weekend.
If all continues to go right with Pettitte, he will probably be back between May 5-10. That means Garcia may only have three more starts to make his case to remain in the rotation.
The Yankees will not go with six starters and Girardi said they will judge the starters on how they are pitching when the decision needs to be made. With CC Sabathia and Hiroki Kuroda likely in, and Ivan Nova pitching as successfully as anyone on the staff, Hughes and Garcia are fighting not to be the first ones off the island when Pettitte is ready for the bigs.